Is it right to 'Facebook shame' alleged harassers?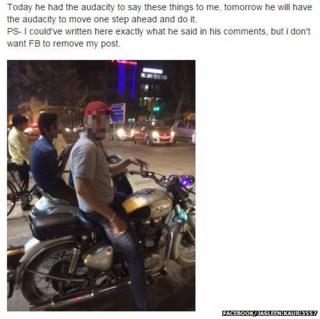 "No-one stood up for me," student Jasleen Kaur wrote on Facebook. "I decided to stand up for myself."
The Facebook post has sparked a heated debate in India about the "shaming" of alleged harassers on the internet. In her post earlier this week, Kaur said a man on a motorbike made obscene remarks to her at a traffic light in Delhi. She reported the incident to the police but also uploaded a picture of the man, which has since been shared more than 130,000 times.
Unusually, the police acted on her post: they arrested a man, Sarvjeet Singh, and charged him with sexual harassment, criminal intimidation, and insulting the modesty of a woman, according to local reports.
The public mood initially seemed to be supportive of Kaur. Indian initially media commended her boldness and the chief minister of Delhi and Aam Aadmi Party (AAP) leader Arvind Kejriwal praised her "bravery". The Delhi police even gave her a cash reward of 5,000 rupees (about £48 or $75).
"I wanted the photo to reach even the [Facebook] wall of his family so that he feels like hiding his face due to shame," she told Indian channel ABP.
Then came a twist in the story. The alleged harasser, Singh, who has been released on bail, denies the allegations and went public too, to accuse Kaur of courting publicity and using the incident to further her own political causes.
Photos and screenshots began to circulate online showing Kaur at AAP events, and the debate over the issue quickly broke down into political camps. Online and on national television, Kaur and Singh have traded claims and counter-claims.
Online public shaming is not a new phenomenon in India. The rise of the use of social media to name and shame alleged sexual harassers in particular has coincided with the brutal rape and murder of a student on a bus in 2012, a case that brought the issue of sexual violence in India to international attention.
This week alone, social media buzz prompted swift action from the police in at least two other cases. In Mumbai, an American woman posted a photo of a man who allegedly masturbated in front of her. The photo went viral and the Mumbai police apprehended a suspect, although the man has denied the accusation.
Another quick move from the police came after a video viewed over one million times on Facebook showed an apparently drunk policeman on a Delhi Metro train. The officer was suspended, police say, although there was no allegation of sexual misconduct in that case - only public intoxication.
So has social media helped to improve policing and the justice system in India? Social media personality Anaggh Desai warns against what he calls "knee-jerk reactions."
"Young men and women who may not be familiar with the rules on how to file a police complaint decide to post on Facebook or tweet to seek justice. But they forget that a tweet is not a proof," Desai told BBC Trending. "The police might take action but one cannot know for sure if it is the right action. Justice depends on what happens if and when these cases reaches the courts."
Blog by Samiha Nettikkara
Next story: Why are Syrians sending love letters to Angela Merkel?
Far-right protesters in Germany may be booing Chancellor Merkel, but Syrians are sending her loving notes on Facebook.READ MORE
You can follow BBC Trending on Twitter @BBCtrending, and find us on Facebook. All our stories are at bbc.com/trending.