Female doctors saying 'I look like a surgeon'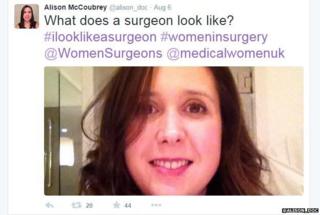 Last week thousands of women took to Twitter to challenge gender stereotypes by proclaiming "I look like an engineer". Inspired by the move, female doctors are doing the same, posting selfies along with the message "I look like a surgeon".
Women across the globe are following the example set by Isis Anchalee, a female software engineer from San Francisco who created #ILookLikeAnEngineer, to try and break the male stereotype associated with the profession. A similar hashtag with much the same aim - #ILookLikeAPhysicist - soon followed. This week #ILookLikeASurgeon has taken off, appearing more than 12,000 times on Twitter, and it is still going strong.
It first appeared last week - posted by Heather Logghe, a resident surgeon based in North Carolina - but took some time to gain traction. Now it's being used thousands of times every day, as more and more surgeons get involved.
"The old stereotype [of a surgeon] is an all-knowing arrogant man who operates very well but can often be heartless, not only with co-workers but with patients too," Logghe tells BBC Trending. Whilst that may be changing, women are still underrepresented in surgery, she says.
Logghe originally posted a selfie along with the hashtag, but says she deleted it after becoming nervous - as did another tweeter in Chicago. Alison McCoubrey, a consultant surgeon in Northern Ireland, was the first to post a photograph and leave it up, prompting hundreds of others to do the same.
McCoubrey says that women now account for around half of medical graduates in the UK, but just 11% of surgical consultants - and one study suggests that figure is rising by just 1% every four years. A paper written by a male surgeon, Ed Fitzgerald, found that in Britain, over half of male and two-thirds of female newly graduated doctors did not think surgery welcomed women.
Many used the hashtag to share their experiences of working in a male-dominated profession. "When I get asked 'R u a nurse' I say No, I'm a surgeon, but thanks for the compliment", said one tweeter, and "For every room you walked in & the patient looks straight past you to the male med student & says "how am I doing Doc?" wrote the Association of Women Surgeons.
Will the hashtag make an impact? McCoubrey is hopeful that it will. "If we can continue to encourage girls to enter the profession, then things will change," she says.
Next story: The Russian supermodel who defended her autistic sister
Model Natalia Vodianova's Facebook post ignited a national debate about disability in Russia. READ MORE
You can follow BBC Trending on Twitter @BBCtrending, and find us on Facebook. All our stories are at bbc.com/trending.