The women 'live-tweeting' their periods to campaign against Trump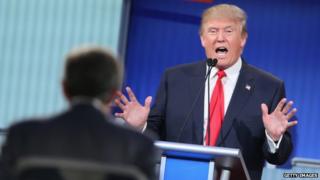 An online defence of periods has been trending, after Donald Trump's comments about "blood coming out of" Megyn Kelly, the host of last week's Republican party leadership debate.
It all started with Trump's response to Kelly's challenge during Thursday's debate. "You've called women you don't like fat pigs, dogs, slobs, and disgusting animals," she said. "Only Rosie O'Donnell," came the reply.
When quizzed about the exchange afterwards, Trump made the remarks that were seized upon by his opponents. He told another journalist that he hadn't been impressed with Kelly's questioning or, as he saw it, her angry tone. "You could see there was blood coming out of her eyes, blood coming out of her wherever," he told CNN's Don Lemon.
Many thought he said this because Kelly is a woman - insinuating she was angry because she was on her period. He himself was swift to refute that interpretation, saying that he'd meant to say "nose" or "ears", but plumped for "wherever" simply in an attempt to change the subject.
Either way, he's now being targeted by women on Twitter who're using the platform to live-tweet their periods, using the hashtag #PeriodsAreNotAnInsult.
The campaign seems to be organised, and even orchestrated. Amber Gordon, founder of online community Femsplain, has created a website - PeriodsAreNotAnInsult.com - to make it easier for others to send messages to Trump. It features pre-prepared tweets that people can simply click on to add to the thousands of messages already posted. More than 5,000 people have used the tag on Twitter so far.
Next story: A live stream of sexist comments?
Live streaming apps like Periscope are becoming popular but some of the most followed women say the apps leave them open to trolling. WATCH THE VIDEO
You can follow BBC Trending on Twitter @BBCtrending, and find us on Facebook. All our stories are at bbc.com/trending.