The Twitter bot that 'corrects' people who say 'illegal immigrant'
BBC Trending
What's popular and why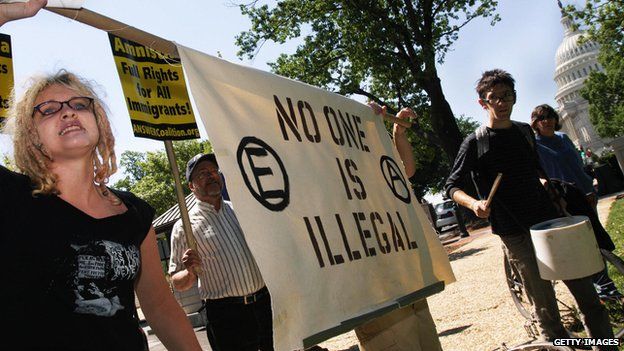 Two American journalists have created a Twitter bot that "corrects" people who tweet the term "illegal immigrant", and offers alternatives. But not everyone appreciates the suggestion.
The "I" word has been called into question in recent years. Defining any human being as "illegal" is considered offensive by some, who think the term should be reconsidered.
That's why Patrick Hogan and Jorge Rivas, journalists at Fusion.net, created a Twitter bot - a computer programme to compose and publish tweets automatically - to "correct" people who use the term on the social network.
Twitter users who include the phrase in any context may receive a message from the bot reading: "People aren't illegal. Try saying "undocumented immigrant" or "unauthorized immigrant" instead."
As you might expect, many people weren't happy about being asked to rethink their use of the phrase, and were infuriated that the suggestion was generated by a piece of computer code. Without realising they were now debating a computer, some retaliated. "I don't recall asking for your opinion", and "They broke the law entering here illegally, that makes them illegals", two users replied.
Some appreciated the tip, however. "Good point! thank you!" said one. "I think you have a good goal in mind, but it makes me uncomfortable to be corrected by a bot," wrote another.
"We see the phrases 'illegal immigrant' and 'illegal alien' thrown around a lot in policy debates," Patrick Hogan tells BBC Trending. "It struck us as a very dehumanising way of referring to someone."
The first version of the bot replied to every instance of the term, but was sending more tweets than the network would allow, he says. The team have now amended it to send one reply every 10 minutes, and not to target the same user twice.
The phrase refers to those who have entered a country without legal permission to do so, and the debate centres on whether people themselves should be defined as "illegal". In 2013 the Associated Press issued new guidance to its journalists to stop using the phrase. "Use illegal only to refer to an action, not a person: illegal immigration, but not illegal immigrant," it read. Instead, they should refer to people as "living in" or "entering a country illegally". Campaigners argue that it is an unnecessarily loaded term, though others think it remains both straightforward and accurate.
Many American news organisations have moved away from using the phrase, but the BBC does not issue guidance on its use.
Across the internet writers are venting their frustrations using the hashtag #TenThingsNotToSayToAWriter. READ MORE