Fat and fit: The plus-size model and the running magazine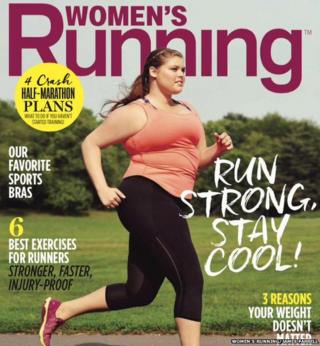 Women's Running magazine featured plus-size model Erica Schenk running on its August cover. The shot started a conversation about what it means to be athletic.
The image marked a departure for the athletic US magazine genre, which usually portrays ultra-fit models who represent an "aspirational" ideal.
Body image expert Harriet Brown, author of Body of Truth and Brave Girl Eating, says the photo of 18-year-old Schenk offers a different kind of message.
"This cover will empower and remind so many women that they don't have to be slender with six-packs to get out and do something positive for their health and well-being," Brown said. "The cover sends an unambiguous message that runners come in all shapes and sizes."
The overwhelming reaction from social media affirms this idea. Twitter user shookie326 wrote: "I almost cried when I opened my mailbox and seen a thick girl like me ON THE COVER. Thank you @womensrunning".
Another user wrote: "@womensrunning Makes me wonder if I can run...? Maybe it's time to stop worrying what others think and just do it?"
According to Brown, if an image of a plus-size model running inspires other women to exercise, that can only be a good thing - even if weight loss doesn't happen.
"There's a ton of evidence that physical activity is good for you no matter what you weigh, and whether it leads to weight loss or not - and for some people, it doesn't. If we really care about people's health, we'd encourage people of all body sizes to be active."
Women's Running Editor-in-Chief Jessica Sebor echoed that message in an interview with the US morning programme The Today Show.
"There's a stereotype that all runners are skinny, and that's just not the case," Sebor said.
"Runners come in all shapes and sizes. You can go any race finish line, from a 5K to a marathon, and see that. It was important for us to celebrate that."
Blog by Brenna Cammeron
Next story: 'If I die in police custody...'
Twitter and Tumblr users are sharing what they want others to know #IfIDieInPoliceCustody after the death of 28-year-old Sandra Bland in a Texas jail.
You can follow BBC Trending on Twitter @BBCtrending, and find us on Facebook. All our stories are at bbc.com/trending.