Sandra Bland's death sparks online demand for answers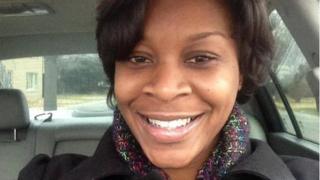 A 28-year-old woman found dead after spending the weekend in a Texas jail cell has raised more questions about how black Americans are treated by police.
Sandra Bland was pulled over by Texas authorities the night of Friday 10 July for an improper lane change, then arrested on charges of assaulting a public servant. After spending the weekend in jail, she was discovered dead on Monday morning from what the Waller County Sheriff's office said "appears to be self-inflicted asphyxiation" - suicide by hanging.
But Bland's family and friends aren't convinced, and they are working with the larger civil-rights community to investigate the circumstances of her death.
When she was pulled over, Bland was in the process of moving to start a job at her alma mater of Prairie View A&M University - a position that would've started on 3 August. Video of the altercation that led to the arrest shows Bland pinned near the roadside by police, yelling that the officer had "slammed her to the ground."
As has been the case in many other African-American deaths in police custody, the Twitter community has fuelled the conversation about circumstances surrounding Bland's death. #SandraBland has almost 200,000 mentions on Twitter. The hashtags #JusticeforSandy and #SandySpeaks are also being widely used to share stories about a death that many say "doesn't add up".
"Who goes on a job interview, gets hired, and commits suicide in a jail cell after being arrested [sic] for a routine traffic stop?" @stopbeingfamous tweeted.
Another Twitter user talking about Bland's death is her friend Bianca Davis. "My sorority sister Sandy Bland died in police custody! Spread the Word!" she tweeted, gaining more than 500 retweets.
Davis, who lives outside of Chicago, spoke to BBC Trending about her friend.
"The authorities can't pass her off, say she was gang member or a drug dealer. She was an educated African woman who had goals and dreams - she was a productive citizen," Davis said, noting that Bland was passionate both about social justice and her Christian faith.
"Now this young woman is dead, and they are trying to call it a suicide. But those who knew her know she wasn't that type of person."
According to the Chicago Tribune, the Texas Rangers - an investigative arm of the state's Department of Public Safety - will investigate Bland's death.
Blog by Brenna Cammeron
Next story: What's it like to grow up black, white, Mexican, Nigerian, Bengali....
It's not everyday that a social media conversation goes truly global - but that's what's happened with the "growing up" hashtags currently spreading around the world. READ MORE
You can follow BBC Trending on Twitter @BBCtrending, and find us on Facebook. All our stories are at bbc.com/trending.