Kenyans to Obama: 'Spare us the gay talk'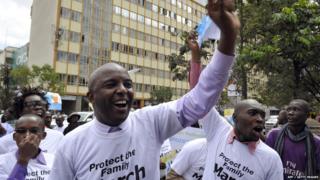 President Obama is likely to have a packed agenda when he visits east Africa later this month, but Kenyans are already using Twitter to advise him on what he should - or shouldn't - be discussing.
#KenyansMessageToObama is trending in the country, with nearly 3,000 tweets in just a few hours Monday morning. One prominent topic of conversation is gay rights. "Spare us the gay talk," one user comments, while another tweets: "That gay vibe should remain in America."
Last month the US Supreme Court ruled that same-sex marriage is legal across the country, a decision that was hailed by Obama - although he had expressed opposition to gay marriage in the past. More broadly, Obama has used previous trips to Africa to urge governments to decriminalise homosexuality. Gay sex is illegal in Kenya, and punishable by up to 14 years in prison.
Anti-gay activists held a protest in Nairobi on Monday morning. Most of the messages mentioning gay rights under the #KenyansMessagetoObama tag are anti-homosexual, but a few Kenyans do offer an opposing view. "Gays are part of our society," one says, "we need to give them some space."
Gay rights, while a popular topic of discussion, isn't the only suggestion for the official visit. Several encourage the US president to try local delicacies, for instance a type of sausage:
There were more than a few jokes at the expense of a lawyer who plans to offer 50 cows, 70 sheep and 30 goats as a bride price for Obama's elder daughter, 17-year-old Malia.
"Owing to increasing demand of Kenyan men on Malia," tweets Nathan Murgor, "You're advised to have her keep you company."
But a number of more serious issues are also suggested. "Avoid Kenyan politicians," advises one activist. Others decry the fact that neglected roads will be spruced up for the occasion. "Kindly visit every county so that there can be beautification and cleaning everywhere," tweets @jacksonjaxo. "#KenyansMessageToObama hash tag reflects a popular African trend," laments Martha Rose. "Clean house only because visitors are coming."
And one of the most retweeted messages is an apparent reference to the frantic pace of construction in the Kenyan capital. "When you land, ask to use Jogoo Rd," said @Ma3Route. "Mombasa Rd will give you false impression."
Blog by Mike Wendling
Our mobile bureau BBC Pop Up will be travelling around Kenya from 10 July - 1 Aug. We want to hear about the relationship between Kenya and America ... and we'll be filming other ideas you suggest, so get in touch via Twitter.
Next story: Reporting on a coup and a crisis... using a music-sharing site
It's a country in crisis: a failed coup, disputed elections, dozens of protesters killed by police and a crackdown on independent media. But journalists in Burundi have hit upon a novel way of continuing to get the news out amid this turmoil, using social media and an app more often associated with indie bands, niche podcasts and DJ remixes. READ MORE
You can follow BBC Trending on Twitter @BBCtrending, and find us on Facebook. All our stories are at bbc.com/trending.