How a 'broken home' can be a happy home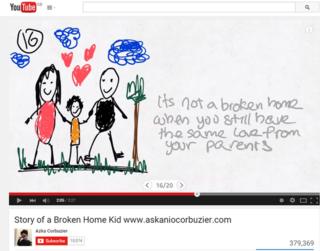 Does divorce mean an unhappy "broken" home? One little boy in Indonesia doesn't think so, and his video celebrating his parents and family life has resonated with thousands of viewers.
"My name is Azka," the video begins, "and this is a story of a broken home kid." Using stick figures and words, 9-year-old Azka Corbuzier traces his parents' relationship, marriage and break-up. But despite the theme and the melancholy backing music, it's not a sad story. His parents live near each other, they get along, and he expresses love for both of them. "They never fight any more," one slide reads, "And we still go to malls and abroad together."
"It's not a broken home when you still have the same love from your parents," Azka writes.
The Indonesian boy's YouTube video has been viewed more than 350,000 times, and he's been inundated with comments from around the world such as: "Thank you so much for the inspiring vid, I showed it to my mum and little sis and we were soaked in tears." Others came forward to share their own stories, good and bad, about how divorce affected them. "I was 10 when my parents decided to divorce. I didn't know that till my dad was suddenly leaving home, and took away his things," one fan wrote, "You can be happier than before!... You realized a very good thing in a very young age :)"
As the son of well-known Indonesian TV presenter and illusionist Deddy Corbuzier, Azka says he was often asked by strangers how he felt about his parents' divorce, so he decided to answer the question once and for all online. His father tells BBC Trending that when he first saw the video "it kind of shocked me... I thought the reaction could be good, could be bad."
Deddy Corbuzier says both he and his ex-wife were surprised that when they told Azka about the break-up, their son's first question was "Who should I go with?"
"We told him he will stay at the same house, and he said 'OK then - no problem'," Deddy recalls. They renamed their home "Azka's house" and that Azka's mother still lives nearby and visits nearly every day.
Divorce is still something of a taboo in Indonesia. The country is around 90% Muslim. Deddy Corbuzier is Catholic and his ex-wife is Muslim, and although he says the mixed marriage wasn't an issue, he was worried that Azka might be bullied for having divorced parents - especially as he is a public figure and the couple's split was widely known.
Azka says on his profile that he thinks he might be the youngest YouTube vlogger in Indonesia, and he's become something of a celebrity himself, with almost 60,000 followers on Instagram. Many commenters on his video have praised Azka's maturity - as one said, "you have understood what it takes me years to come to terms with after my parents [broke up]." Azka says that he hopes to inspire others whose parents are divorced. And how does he feel about the reaction to his story? "It feels great!" he told Trending.
Blog by Sumaya Bakhsh
Next story: The video that shocked America
A video of a black teenage girl being dragged to the ground by a white police officer is being widely shared online, and has become the latest talking point in the debate over police and race relations in America.READ MORE
You can follow BBC Trending on Twitter @BBCtrending, and find us on Facebook. All our stories are at bbc.com/trending.