They begged their heroes to come - but will they listen?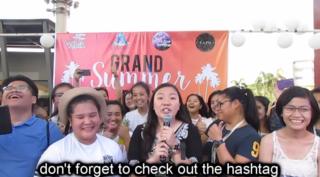 A co-ordinated effort by die-hard YouTube fans in the Philippines has caught the attention of some of the site's most famous video bloggers, but will they follow through on promises to visit the country?
The Philippines has one of the youngest and fastest-growing populations in Asia and a huge social media fan base to match. Despite that, Manila does not always head the list of destinations for top YouTube stars - a fact that a concerted effort by young Filipinos aimed to change.
Earlier this week the hashtag #BringYouTubersToManila hit Twitter's list of top worldwide trends. It was a co-ordinated effort by Filipino "street teams" - not, as you might expect, groups of young people in matching T-shirts giving out free samples of yogurt near train stations, but rather online fans of popular YouTubers such as Zoella, Marcus Butler and Alfie Deyes of Pointless Blog.
The street teams are a big force online in the country, and after a failed attempt last year to make the hashtag trend, more than a thousand YouTube fans gathered at Manila's "Grand Summer Party" (a sort of festival for YouTube fans) where a plan was hatched to co-ordinate messages at an exact time, bombarding Twitter with super-fandom.
It worked. More than 200,000 people tweeted #BringYouTubersToManila and some of YouTube's most famous stars started to pay attention:
So who organised the campaign? One typical street team member is 15-year-old Reese Audrey who runs a Filipino fan page for British video bloggers Fin and Jack Harries. They run the channel Jacks Gap which boasts 4m subscribers.
A street team is "its own fan base for a specific celebrity," Reese told BBC Trending. She called the Harries brothers "inspiring" and noted that "by watching YouTubers, we enhance our knowledge of the English language." But although she is a Harries superfan, like many other street teamers, she's never had the chance to meet the objects of her affections.
While several of them expressed interest in visiting Manila, so far there have been no firm bookings. We've asked the some of the most famous YouTubers targeted if they're making concrete plans to fly to the Philippines - but as of yet, we haven't heard anything back.
Blog by Henry Wilmer
Next story: Why some people turned a farm tool into a selfie stick
Follow BBC Trending on Twitter @BBCtrending, and find us on Facebook.