The 'wrinkled women' of Russia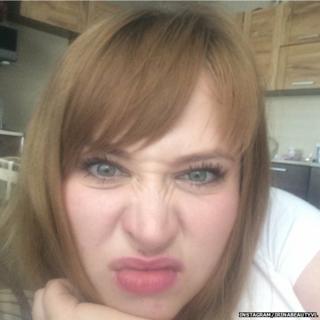 Hundreds of Russian women are posting selfies with scrunched faces on Instagram, as part of a protest against officials - including one who remarked about women aged 27 having wrinkles, and another who married a teenager aged under 18.
It began with an arranged marriage. On Saturday, Nazhud Guchigov, a 47-year-old local police chief in the Russian republic of Chechnya, married Kheda Goylabiyeva - who is 17 years old. The bride has gone on TV to say she was marrying the "manly and reliable" Guchigov of her own free will, but many commenting online disagreed - especially since Guchigov is already married, and so was marrying a second wife, as is permitted by the Muslim faith predominant in Chechnya.
The marriage was also controversial because polygamy is illegal under Russian law and the minimum age of marriage is 18 (although it is 16 in Chechnya).
The discussion online was so heated that it led Chechnya's leader Ramzan Kadyrov to urge men to "stop their wives" from using WhatsApp - a remark causing further criticism.
Amid the uproar, the Russian children's rights ombudsman Pavel Astakhov came out to defend the marriage. "Let's not be prudish. Emancipation and sexual maturity happen earlier in the Caucasus. There are places where women have wrinkles at age 27 and they look 50 by our standards," he said.
Women online took offence at the remarks. Feminist activist and journalist Bella Rapoport scrunched her face and posted an Instagram selfie with a new hashtag (#сморщеннаяженщина) which means "Wrinkled Woman" or "Withered Woman". Nearly 500 photos have been uploaded with the tag in the last week. In their posts, the women call Astakhov a "hypocrite" and blame him for allowing the marriage to a girl who many consider a minor.
"This hashtag is about the oppression of women. Women's rights are violated in Russia, especially in Chechnya," Rapoport told BBC Trending. She said she posted the selfie because she was angry to see women being "treated like an object".
More than 35,000 have signed an online petition asking Astakhov to be removed from office for "dodging his duty to protect the underaged from violence and making offensive remarks about women."
Astakhov himself has issued an apology on his Instagram profile: "Women of any age are splendid and adorable," he writes. "God created Woman so that we could love her, defend her, take care of her, glorify her. A clumsy comparison, a rash word taken out of the context of discours,e cannot change my attitude to the Fair Sex. I've loved, love and shall love and respect [them]! I apologize for the mistake I've made!"
But Rapoport isn't convinced, telling BBC Trending the apology is "sexist" in her view and that she does not accept it.
The Kremlin has refused to comment about the Chechnya wedding. The response given to journalists by Russia's presidential press secretary Dmitriy Peskov was: "we do not do weddings".
Blog by Samiha Nettikkara
Translations by Ivan Belevich
Next story: The Kenyan woman on Chinese death row
Or maybe you'd like to watch: Why slightly flabby middle-aged guys are suddenly sexy
Follow BBC Trending on Twitter @BBCtrending, and find us on Facebook.