Why some people are blaming war for... women on bikes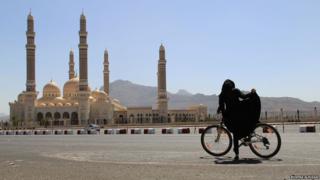 War is tearing Yemen apart, and the news is unrelentingly grim. But some Yemenis have been raging not about fighting, airstrikes, or severe food shortages, but instead about… women on bikes.
Bushra Al-Fusail is a young female photographer who's pushing one solution to severe petrol shortages caused by the conflict in Yemen: bicycles.
"In 2011 when there were fuel shortages we could still find petrol in the black market," she explains, "but things are so bad right now that we can't even find a black market." Last week Al-Fusail launched a campaign to encourage Yemeni women and girls to hop in the saddle with a Facebook event called "Let's ride a bike."
Unlike in neighbouring Saudi Arabia, women in Yemen can drive and it's common to see women in cars zipping around the capital Sanaa. But female bike riding is almost unheard of - many conservative Yemenis believe it's immodest or shows off too much of a woman's body.
"I see men cycling everywhere," Al-Fusail says. "So I thought, why can't we ride bikes too? After all, it's not illegal, it just needs bravery."
---
Confused about Yemen? Want to know more? Check out this interactive explainer.
---
Hundreds hit the "I'm attending" button on the Facebook event, but when the day came only 15 women actually joined the ride in Sanaa on 16 May. "Most girls in Yemen don't know how to ride a bike," Al-Fusail explains, "and many of those who could were either afraid or not allowed by their parents or husbands."
But while the response to the event itself was small, as soon as pictures of the girls riding bikes were shared online, they were met with a wave of rage - mostly from men who were sharing the photos with captions along the lines of: "This is what this war has brought."
Under each photo, hundreds of angry comments filled the timeline. "This can't be real, these images were photoshopped," commented one Yemeni man. "These are not women, they are men dressed as women," said another.
"I expected aggressive comments, but what I didn't expect is for people to be so shocked that they couldn't believe it was real," Al-Fusail told BBC Trending.
The controversy kicked off as the humanitarian situation has been rapidly deteriorating in Yemen. Even those who are relatively well-off - compared to the 10 million in the country living under the poverty line - are struggling to find ways to go about trying to live a somewhat normal life.
Al-Fusail herself received hundreds of messages of abuse and briefly decided to deactivate her Facebook account until people "calmed down." But she is now back online and says she intends to organise more cycling campaigns. Along with the anger, she says, support for her project is also growing. "People need to change the way they think," she says. "They need to stop thinking of women as sexual objects, only then will they stop seeing everything they do as sexual."
Blog by Mai Noman
Next story: The fake cop who's causing real headaches for police
He's not a real cop - he just looks like one at first glance.
Abdishakour Mohamed Ali dresses up in a Swedish police uniform from the 1970s. He created the "Bängan Lagerblad" character to highlight what he says is racism in the country's police force. READ MORE
You can follow BBC Trending on Twitter @BBCtrending, and find us on Facebook. All our stories are at bbc.com/trending.