'Take us with you, Scotland' say thousands in North of England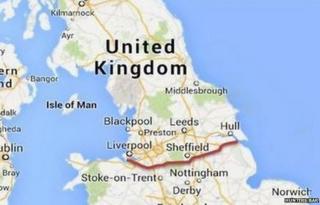 Thousands of people in the north of England have been using the hashtag "take us with you Scotland" to express their upset about the result of last week's general election, and Scottish nationalists are welcoming this English minority with open arms.
Last Thursday's general election was a rough one for the Labour Party in its traditional stronghold in the north of England. But further to the north, the left-leaning Scottish National Party won nearly every seat it contested. That political contrast has made some left-wing voters in places like Manchester, Leeds and Sheffield look fondly on their neighbours. Since last Thursday's election in Britain the phrase "take us with you Scotland" has been used more than 24,000 times.
"Genuinely beginning to wonder if the North of England becoming a part of Scotland would be better for us, I really am," tweeted Aaron Miller from Yorkshire. Some cracked jokes under the tag after the North West Motorway Police account, which gives traffic updates, announced that they had "picked up a pedestrian on the M62 who was trying to walk to Scotland."
After an initial spike of jokes over the weekend, the hashtag really took off when users start to mobilise in support of around a year-old petition on the campaigning site Change.org. The petition calls for the north of England to secede from the rest of the country and join up with Scotland, and more than 12,000 people have signed it.
Its creator, a Sheffield resident who calls himself "Stu Dent", set it up to coincide with last year's Scottish independence referendum, and he also created a map imagining the boundary of a "Scotland plus the north" country.
Stu Dent runs the Twitter account Hunters Bar, named after an area of southwest Sheffield which is very popular with - you guessed it - students. Despite the account having thousands of followers on Twitter, when the map was first posted last year, the image was shared only about 100 times - however, in the past week it's been retweeted by thousands. Stu Dent told BBC Trending that he was surprised at how popular his idea has become. "In hindsight, perhaps I shouldn't have been," he said. "There is a huge frustration in parts of the UK about the things that have happened since 2010."
"I think people need a place to go where they can say 'not in my name! This is not the England I want'," he added.
But in addition to disappointment from some quarters about the election result, there might be another reason why the petition is getting a boost now: the power of the Scottish Nationalists on Twitter. What started as a post-election joke in the North of England was quickly embraced by the so-called "Cyber Nats" - and a trend was born.
The SNP's social media strategist Ross Colquhoun expressed the party's mood about the hashtag best, in a post which was shared more than 500 times. "2014: #LetsStayTogether 2015: #TakeUsWithYouScotland What a difference a year makes" he tweeted.
Blog by Hannah Henderson
Next story: The sport reporter and the obscene ranter who lost his job
Follow BBC Trending on Twitter @BBCtrending, and find us on Facebook.