Fox fight: comedians drive online opposition to hunting vote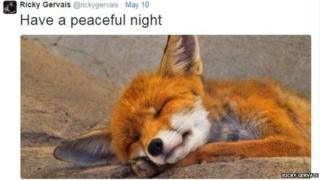 Less than a week after Conservative Party won a majority in the UK general election, animal rights activists - with prominent comedians and entertainers as their allies - are organising online to fight an effort to legalise hunting with dogs.
Fox hunting was not really an issue during the general election campaign. It barely registered on lists of voter concerns, and didn't come up in debates. But in their manifesto, the Conservatives pledged a free vote for MPs on repealing the decade-old law that banned hunting with dogs, and the evening after the election the Conservative Health Minister Jeremy Hunt confirmed to the BBC's Newsnight that the vote would go ahead.
That galvanised hunting opponents online, who among other things started tweeting pictures of cute and cuddly foxes. Since the election results came through more than 58,000 tweets in the UK have mentioned the term "fox hunting" - compared to just 4,000 in the week before the election.
Influential animal rights charities such as the RSPCA, the International Fund for Animal Welfare and the League against Cruel Sports have traditionally led the anti-hunting charge in the UK, but on social media it's British comedians and celebrities who seem to be making the most impact.
"The most powerful man in Britain wants the freedom to hunt this animal on horseback and watch dogs rip it to pieces" tweeted comedian and vocal animal rights campaigner Ricky Gervais alongside a video of a playful fox. The Office star has more than 8 million Twitter followers, and since Thursday his feed has been dotted with pictures of fox cubs. His messages were retweeted by other celebrity conservationists such as Queen guitarist Brian May and documentary maker Bill Oddie.
Gervais has also re-tweeted links to a petition on change.org which has attracted more than 240,000 signatures - more than other post-election UK political petitions supporting, for example, a referendum on the Conservative plan to repeal the Human Rights Act and another calling for reform of the voting system.
Another famous comedian, Jack Whitehall, has also been driving the trend. "Fox hunting should only be considered a 'sport' if they do it both ways round. I.e. A pack of foxes get to chase a posh guy with a trumpet" he tweeted.
Opponents of the last government's controversial badger cull to prevent the spread of tuberculosis amongst cattle have also helped drive Gervais's message onto Facebook. Anti-badger cull communities on the platform have started sharing celebrity quotes.
But some have gone much further, into the realms of trolling. They have posted updates which boast of their targeting of fox hunting supporters individually, as well as people involved in last year's badger cull. "A source tells us this family are involved in badger killing," reads one post which encouraged activists to post negative reviews of the family's business.
However not everyone on social media is convinced of the apparent urgency to pressure MPs on the issue. On Reddit, many were quick to point out that the Conservative Party were simply following through on a campaign promise in a democratic process. Others highlighted websites which listed a number of Conservative MPs who don't support removing the ban - which will make a difference given that MPs will be allowed to vote with their conscience on the issue, rather than sticking to a party line.
A Conservative Party spokesperson told BBC Trending that the party was still committed to its manifesto promise. The pro-hunting Countryside Alliance is not yet campaigning on the issue, saying that until the government had given a firm commitment in the Queen's Speech later this month, its members are focusing on other campaigns.
"The recent general election has shown the dangers of mistaking social media sentiment for a true representation of public opinion" an Alliance spokeswoman said. "It is very easy to favourite a celebrity tweet but I wonder if 400,000 of these keyboard warriors would rally themselves to march, as the Countryside Alliance did in support of hunting in 2002. You can be sure that once a concrete piece of legislation has been brought forward hunting supporters will be ready and willing to act."
Blog by Hannah Henderson
Next story: The sport reporter and the obscene ranter who lost his job
Follow BBC Trending on Twitter @BBCtrending, and find us on Facebook.