This fake game is scaring parents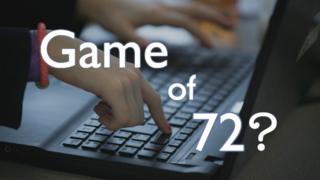 It's sparked frightening headlines and warnings from police departments around the world - but there's no evidence that a social media "game" that encourages children to disappear is anything other than a rumour that's got out of hand.
The first suspected case surfaced in northern France in late April. A 13-year-old girl named Emma disappeared from her home, but was found three days later. According to local media reports, Emma told police she'd been playing the "Game of 72" - a social media challenge where kids are allegedly told to disappear for 72 hours by their friends.
The story was picked up by other outlets in France and when the English-language website The Local reported on it, British and North American news outlets were not far behind. A Facebook post - later taken down or deleted - warned parents about the game and was shared thousands of times.
There's just one problem - the story about Emma doesn't check out. Francois Perain, the prosecutor in Valenciennes, the district where the incident took place, told BBC Trending that the game "seems to be an excuse".
"Actually we think that Emma joined up with someone when she ran away, and that was the main reason for her running away," he said via email.
"Everything points to the fact that the game (which may be imaginary) is the explanation that Emma gave as the reason why she ran away, and to protect the person she met. That person is currently being looked for by the police," he said.
Other doubts were picked up on by The Local, which mentioned an expert's view that the "game" was most likely a hoax, and in reporting by other French news outlets, but such notes of scepticism were missing from some breathless reports in English.
Police around the world have warned parents about the game - for instance this tweet from a police department in Massachusetts. And other cases have been linked to the fake trend - including the disappearance of two teenagers in Essex last week. But Essex Police told Trending there was no link between the "game" and the missing teenagers. Headlines making the connection relied on a quote from a neighbour who speculated that their disappearance "might be part of this new craze in the area" - and not on police or other sources. BBC Trending wasn't able to trace the neighbour.
And for a "game" that is supposedly catching on all over the world, there's scant chatter about it on social media. Only a few hundred tweets have been sent about the "game" - most referencing news articles. Facebook searches in English and French throw up relatively few hits - and again, most link to media reports. The National Society for the Prevention of Cruelty to Children, which runs the UK's best-known helpline for children, told Trending that they haven't received any calls about the "game".
Some of the coverage of the "game" compared it to other trends such as neknomination - the viral challenge where people were egging friends on to complete a dangerous and/or drinking-related stunt. But whereas neknomination was a real thing - as were other potentially dangerous games such as the "cinnamon challenge" - the "game of 72" appears to be nothing more than a lost-in-translation rumour.
Blog by Mike Wendling
Translation by Arlene Gregorius
Next story: Celebrations - along with shock - as Twitter reacts to Zimmerman shooting
You can follow BBC Trending on Twitter @BBCtrending, and find us on Facebook. All our stories are at bbc.com/trending.