The migrant petition that's not about Katie Hopkins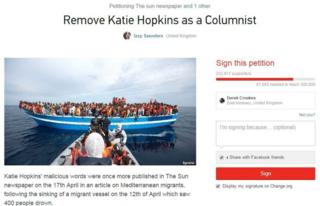 A petition calling for the sacking of a newspaper columnist for comments she made about migrants crossing the Mediterranean has attracted about 250,000 signatures - but one calling for a rescue mission has attracted less support.
Katie Hopkins' screed against migrants - in an article in the 17 April edition of The Sun she called them "cockroaches" and advocated using gunships to stop people crossing the Mediterranean - has earned her a quarter of a million detractors calling for her to be sacked on petition site Change.org.
While the petition has grown fast since it was posted three days ago, it is still some way off some of the biggest recent campaigns on the site. More than 700,000 pledged their support for Ghoncheh Ghavami, a British-Iranian woman jailed for watching a volleyball match (she was released from prison last year). And a petition calling for Jeremy Clarkson to be reinstated on Top Gear got more than a million signatures - although it of course failed. During the Clarkson row, Trending listed some of the biggest-ever Change.org petitions.
The Hopkins petition was set up by 22-year-old Izzy Saunders, who told Newsbeat that the Sun column was mean and inappropriate. "It's not a choice they [the migrants] make to get on the boat to make that journey," she says. "It's like a last resort."
---
More from BBC Trending: 'Migrant worker' hip-hop
Please vote for us! We've been nominated for a Webby Award.
---
But there's another migrant-related petition on Change.org's front page that's not getting as much support as the one against Hopkins. Called "Stop the deaths at sea now!" it was posted by Tareke Brahne, a migrant from Eritrea who calls on the European Union to "restore a robust operation of search and rescue at sea." As of late Tuesday afternoon UK time, it had about 150,000 signatures, although it's growing very fast - it was only created on Monday and doubled in popularity in just a few hours.
In the text of the petition Brahne says: "I fled from Eritrea when I was 17, escaping the military, war and a fierce dictatorship. I was desperate. Nothing could stop me, not even the fear of dying at sea. I was rejected on my first attempt and tried again."
"The current EU operation, Triton, focuses primarily on border control. This operation should be strengthened and focus on saving lives," the petition urges.
As for the Hopkins controversy, the Independent Press Standards Organisation has received more than 100 complaints about her column, and the columnist along with Sun editor David Dinsmore have been reported to London's Metropolitan Police by the chair of the Society of Black Lawyers who alleged incitement to racial hatred. Like the Clarkson petition, at the moment the Hopkins one doesn't look likely to succeed - The Sun's website was still calling her column "brilliant" as of Tuesday.
Blog by Mike Wendling
If you like BBC Trending's reporting, please vote for us - we've been nominated for a Webby Award.
Next story: What does classic art look like without the gluten?