One woman's struggle to get sexual harassment taken seriously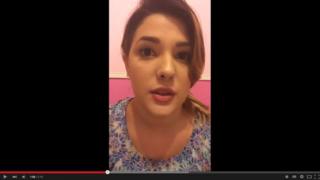 An young Argentinean woman has become a hit on internet with her story about catcalling, sexual harassment and her struggle to get the authorities to take her complaints seriously.
About a month ago, workers at a building site started to shout at Aixa Rizzo as she walked down the street near her home. The comments soon got offensive and the 20-year-old asked the men to stop it. "It worked for a day," she says.
Then things took a turn for the worse. As she was leaving her house one day, one of the workers started walking towards her. "I turned the opposite way when one of his colleagues appeared from the corner with three other guys and shouted 'Where do we take her?'" Fearing for her safety, Rizzo used pepper spray against the men. She managed to escape and tried to report the incident to the authorities, but that proved frustrating. She says called a helpline for sexual harassment several times before she found someone who would even listen to her complaint.
That was the final straw and she decided to post a video detailing her story on YouTube - it now has more than 400,000 views.
It wasn't the first time Rizzo has been a victim of sexual harassment, she told BBC Trending. "Back then all I did was cry. I didn't go to the police because it was on the street and I know how difficult it is to identify the aggressor." But a social media campaign and growing awareness of sexual violence in Argentina convinced her to speak out after the most recent incident. After her video went viral and local media started to mention it, she pressed charges against the workers.
Martin Ocampo, the general attorney for Buenos Aires, acknowledged that Rizzo's story is not unique in Argentina. "It is linked to a sexist culture," he told BBC Trending. "The fact that we don't have many official complaints doesn't mean it is not serious. Often people are unaware that they can report this kind of behaviour or tend to consider it as a normal thing. What starts with a catcall at a woman could end with gender violence due to the dominance of a man over a woman."
---
Also from BBC Trending:
Does Russian-language Siri have a problem with gays?
The act of culinary kindness that trended in Oklahoma
The Indian women who are pledging to wear saris all year long
---
The men who allegedly harassed Rizzo were contractors doing maintenance work for the energy company Edenor, says company spokesperson Eduardo Mirabelli.
Mirabelli told BBC Trending that his company has asked the contractors not to use the men for Edenor work in the future, and all work at the site near Rizzo's house has been suspended pending the outcome of the investigation.
"This is the first case we have heard of to happen with one of our workers, and we are being very careful as we don't have experience dealing with sexual assaults," he says, although he does admit that past cases probably haven't been reported to the company or the authorities.
Rizzo says she was inspired to report the incident and to make her video by an anti-sexual harassment campaign run by NGO Accion Respeto ("Action for Respect").
"I'm a little bit scared, but here men of all ages behave like this. We have to start taking action to stop this kind of violence," she says.
Accion Respeto started a Facebook group a year ago which now has more than 120,000 members, with many users posting messages about the offensive language they've been subjected to on the streets of Argentina.
Blog by Gabriela Torres
Next story: Does Russian-language Siri have a problem with gays?
Or maybe you'd like to read:An act of culinary kindness
You can follow BBC Trending on Twitter @BBCtrending, and find us on Facebook. You can even vote for us - we've been nominated for a Webby Award.