Yemen's home grown anti-war movement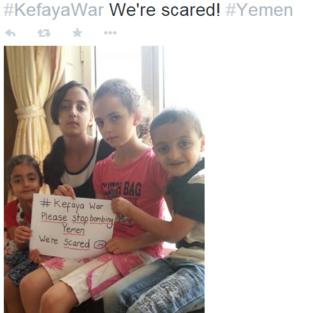 As fighting continues across Yemen and the situation becomes increasingly desperate for civilians trapped near the front lines, a group of activists are pinning their hopes on a social media campaign.
It's a small but growing movement online - Yemenis inside and outside the country saying #KefayaWar - "Enough war". The campaign began in late March as a Saudi-led coalition launched its airstrikes against Houthi rebel targets in Yemen, and since then the phrase has been used by people sharing news reports, pictures and videos of the devastation of war, and photos of children sheltering from the fighting.
One of the first users of the hashtag was a civil servant and activist who tweeted on 31 March: "Big explosions. 3:58 am local time. We're growing sick of this with no end in sight. Enough! #KefayaWar" Since then more than 20,000 people have used the hashtag - both inside the country and around the world - and a Facebook page set up by a group of activists has more than 4,000 likes.
"We were inspired by the daily lives of Yemenis, how they are working hard to maintain a normal life despite all the violence," says Sarah Jamal, a 27-year-old sociologist and member of the small group that created the campaign.
The group has tweeted against the Houthi rebels who are currently trying to build on recent military victories to take control of the country, but Jamal says the activists are equally opposed to foreign intervention by a Saudi-led coalition - and in favour of an end to all hostilities.
"I personally do not support any of the sides, I see them as all equally guilty," she told BBC Trending via phone from the capital, Sanaa. "We are trying to create a space for Yemenis who don't want to join the war, a safe space for those who want to reject both sides and we are trying to encourage those who haven't yet joined the battle not to join in."
The campaign is also directed outside the country - it's largely in English and includes contributions from Yemenis and others around the world. "In the media Yemenis are usually depicted as either pro-Saudi or pro-Iran, Sunni or Shia. People forget that Yemenis can be pro-Yemen as well," says Sarah Jamal.
Jamal admits the campaign has had limited success so far, though. Although messages of support have come in from around the country and the world, few fighters have heeded their call.
"The majority of those holding weapons and fighting come from very poor areas - they lack basic services, some haven't seen electricity, much less the internet and social media. You can't prevent those people from going to war through Facebook," she says. "But the thing about Yemen is that everyone has a family member in the city, in the rural areas, everywhere. ... If I can change someone's mind, they can have an influence on their relatives and so on."
"While I'm hiding from all the bullets, I might as try to find a way to build something, if not for now, than for the future. Because civil wars don't end in a few days."
Blog by Mike Wendling
Next story: Why are people trying to give money to the Saudi 'trash boy'?
You can follow BBC Trending on Twitter @BBCtrending, and find us on Facebook. You can even vote for us - we've been nominated for a Webby Award.