George Galloway's accusations over opponent's forced marriage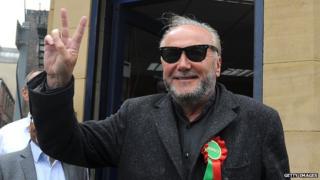 A hustings in the seat of Bradford West has started trending online - because of a claim by George Galloway about his opponent's forced marriage.
The hashtag #BradfordWest has been retweeted more than 2,000 times after an exchange between the Respect candidate George Galloway and the Labour candidate Naz Shah.
After she was selected as Labour candidate, Shah published an open letter which outlined her extraordinary upbringing. She said she had grown up in severe poverty after her father eloped with a neighbour. She was then sent to Pakistan to escape her mother's abusive partner and while there, aged 15, she says she was forced to marry. Her mother eventually killed her abusive partner and was jailed, which meant that Shah had to care for two younger siblings. She left her husband in 1992, and became active in politics after her mother's imprisonment.
But George Galloway of the Respect Party, whom she is running against for the seat, has attacked her claim that she was forced into a marriage at 15 - or at least, that part of his hustings speech is what picked up the most attention on social media when a clip of Galloway's speech found its way onto YouTube. Shah maintains that her version of events is true.
In the video, Galloway claims that Shah has "only a passing acquaintance with the truth, you claimed and gullible journalists believed you that you were subject to a forced marriage at the age of 15 but you were not 15. You were 16 and a half." He then produces a document which he claims is Shah's nikah (a marriage certificate produced when people are wed under Shariah law). The Guardian's Northern Editor Helen Pidd, who attended the hustings and who was live tweeting throughout the event reported that Shah "utterly refuted the allegations and said she had the documentation to prove it." Shah accused Galloway of sending someone to Pakistan to impersonate her dead father in order to obtain her "nikah" and vowed to sue Galloway after the general election.
The Guardian's live tweeting of the hustings started to attract attention on Twitter, but unusually given the parties involved, Conservative commentators were among the first ones to leap to Shah's defence online. The former Conservative MP Louise Mensch was the first to take up the issue. "HOW DID YOU OBTAIN NAZ SHAH'S PRIVATE RELIGIOUS DOCUMENTATION" she asked on Twitter. "I'm not a Labour supporter," Mensch tweeted. "But I am a feminist. And if anyone thinks they can smear @NazShahBfd to influence an election they are mistaken."
She continued to tweet on the subject throughout the morning, bringing the video to the attention of the political site Guido Fawkes and other conservative commentators. Soon other political websites, such as Labour List, also started to pay attention as readers started to ask if Galloway's comments may have broken election law.
You can find a full list of all the candidates standing in Bradford West here.
Reporting by Hannah Henderson
Next story: 'Gangster Ed': Miliband Vine takes off
You might also enjoy reading: David Cameron's 'thug life' on YouTube
You can follow BBC Trending on Twitter @BBCtrending, and find us on Facebook. You can even vote for us - we've been nominated for a Webby Award.