Dolce and Gabbana say 'Boycott Elton John'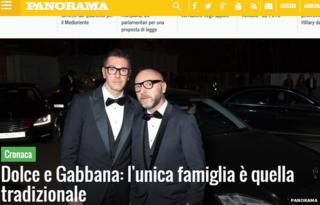 Fashion designer Stefano Gabbana has vigorously defended his criticism of gay adoptions, using social media to create a range of hashtags and slogans - but none have really taken off.
The fashion designer Stefano Gabbana is calling for his fans to boycott Elton John after a very public spat on Instagram. Gabbana and his long-time business partner Domenico Dolce, who were a couple for more than two decades, managed to irritate several different groups of people in an interview with Panorama (an Italian news magazine not to be confused with the BBC series of the same name). "We oppose gay adoptions," they say. "The only family is the traditional one."
They also criticise IVF and surrogate parents: "No chemical offspring and rented uterus: life has a natural flow, there are things that should not be changed."
"You are born to a mother and a father - or at least that's how it should be," Dolce says. "I call children of chemistry, synthetic children. Rented uterus, semen chosen from a catalogue."
Soon people were posting pictures of their children conceived through IVF and tweeting support for gay marriage. Sir Elton John, who has two children with husband David Furnish, led the charge on Instagram. Next to a picture of the designers, he writes: "How dare you refer to my beautiful children as 'synthetic'. And shame on you for wagging your judgemental little fingers at IVF - a miracle that has allowed legions of loving people, both straight and gay, to fulfil their dream of having children." He signed off with: "#BoycottDolceGabbana"
Gabbana seemed to take the criticism to heart, and since the controversy took off he's posted dozens of pictures and comments to shore up his argument. At one point he played on a slogan popular in the wake of the Charlie Hebdo attacks and declared "Je Suis D&G". And in another he posted a picture of a woman and a child along with the words: "#dgmamma #dgfamily."
In a post Monday Gabbana shouted "Fascist!" and took direct aim at the singer: "#boycotteltonjohn". On his Instagram account, as you might expect, there was quite a lot of support for his criticism of Elton John among the hundreds of comments. Polina Yaguzhinskaya says: "We live in a free world and if Stefano wants express his personal opinion it's his right. So just mind your own business."
Others disagreed: "We live in a world of differences," scolds Débora Miranda. "You should know better."
The fashion designer's rallying cry doesn't seem to have taken off. On Twitter about 1,500 people have tweeted #BoycottEltonJohn, with most influential tweets coming from Italians. A related hashtag, #SupportDolceGabbana, has around 2,700 tweets. But both are up against #BoycottDolceGabbana which has been used more than 30,000 times.
Blog by Mike Wendling
Next story from BBC Trending: Abuse allegations shock El Salvador
Or maybe you'd like to look at: Coming out as gay at Chinese New Year
You can follow BBC Trending on Twitter @BBCtrending, and find us on Facebook. All our stories are at bbc.com/trending.