Do MPs reply to people who tweet them?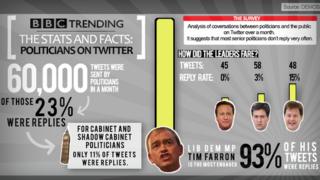 The British prime minister hasn't replied to anyone on Twitter this month - but does it really matter?
Have you ever asked a politician a question on Twitter? And did you get a reply? While many British MPs are fans of the platform for broadcasting their messages to the nation, it seems few use it to have a conversation.
By analysing the tweets sent by MPs from 28 January - 4 March, the left-leaning think tank Demos has pulled together some interesting figures. According to their analysis, about 60,000 tweets were sent by MPs over the period. About 23% of them were what Twitter users call "@ replies", that is direct - but still public - messages in which MPs respond to other Twitter users by putting their their usernames at the beginning of the message. Or in simpler terms, having a two-way conversation. For cabinet or shadow cabinet politicians, the number was lower still, at just 11%.
The think tank's stats shine a light on the three biggest parties' leaders. Deputy Prime Minister and leader of the Liberal Democrats Nick Clegg tweeted 48 times in total, of which seven were "@ replies". Leader of the Opposition and head of the Labour party Ed Miliband wrote 58 tweets, of which just two were "@ replies". And Prime Minister David Cameron, leader of the Conservatives, sent 45 tweets, but not a single "@ reply". He is joint bottom of the table with scores of other MPs who didn't send any replies either.
All three leaders declined to comment on the issue to BBC Trending.
The level of engagement from the leaders is low compared with most MPs then, but does it really matter? Do we expect our most senior politicians to be sending personal replies to everyone who contacts them on Twitter? In reality, most political leaders delegate responsibility for their Twitter account to their teams, so it wouldn't be true to say they're too busy to reply to everybody. But there are other good reasons they might choose not to. They might engage with their constituents in other ways, and might not want to focus on simply those who are active online. Twitter is also infamous for its legions of trolls, and all of the party leaders receive reams of personal abuse for each tweet they send - hardly conducive to lively democratic debate.
If the biggest political stars are dragging the average down, which MPs are pushing it in the other direction? Of the Demos think tank's top 10 "most engaged" politicians - those whose Twitter timelines have the highest proportion of "@ replies" - four (Eric Joyce, Jo Swinson, Tom Greatrex and Mike Crockart) represent constituencies in Scotland. Another, Tim Farron, who represents Westmorland and Lonsdale, just south of the border, is far and away the most conversational. Of the 876 tweets he sent over the period, 816 were "@ replies". BBC Trending spoke to Sarah Champion, seventh "most engaged" MP on Twitter. "I talk about everything," she says. "I hope it shows that I'm open. The flip side is that I finish my working day and then end up doing an hour of Twitter before bed, and after waking up." She is critical of MPs who join a social network designed around engagement, but then don't use it to interact with people. "If they don't want to do it, then don't have a Twitter account," she says.
Carl Miller of Demos thinks politicians have a difficult balance to strike. "In the wake of Emily Thornberry's resignation, they know that a single tweet can cost them their job," he says. But he suggests that engagement online is becoming more important. "A new digital divide is opening between politicians using social media only to speak, and those also using it to engage." He thinks it could mean "digital headaches" for the mainstream parties. Their smaller political rivals are far more responsive on the network. "UKIP hopefuls are the most engaged of all on Twitter," he explains, and says the Green party and Plaid Cymru both have more discussions than Labour or the Conservatives.
Blog by Sam Judah
Next story: Why some Indians want to 'Ban BBC'
You can follow BBC Trending on Twitter @BBCtrending, and find us on Facebook. All our stories are at bbc.com/trending.