Falklands banknote leaves Argentines underwhelmed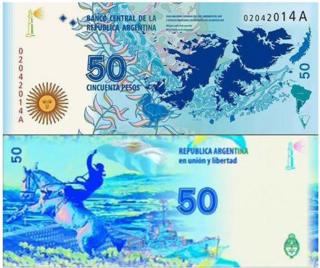 A new banknote declaring Argentina's "sovereign love" for the Falkland islands received a frosty reception on the Argentine internet.
Britain maintains that it has sovereignty over the Falklands but Argentina also lays claim to the islands, which it calls Las Malvinas. Next week in Argentina, a new 50-peso ($5.74) banknote featuring the islands as part of Argentinean territory is set to come into circulation. In the words of the country's central bank governor Alejandro Vanoli, the idea is to remind people of "the undying claim of the people of Argentina over the Malvinas Islands" through the everyday use of money. The new bank note bears the slogan "Malvinas Islands, a sovereign love".
The islands have long been a nationalist rallying cry for Argentinians. But that's not quite how Argentines using social media seemed to feel this time. There was much discussion on Facebook and Twitter and 23,000 people sent tweets referring to Malvinas or Malvinas Islands. Most of them were more worried about inflation levels than reclaiming the islands, and were upset about the new note for that reason. "A 50 peso note in tribute to Malvinas, what is missing is a 500 peso tribute to the inflation," wrote user Ale Aguirre. A minority went even further: "the Malvinas are not from Argentina, to have them on a bank note is like having something English. Sorry about that patriots", wrote user Gato Floro. Another commented: "We lost the Malvinas on a war that this government doesn't condemn. I don't understand their policy or this bank note".
BBC Mundo's reporter in Buenos Aires Veronica Smink says the negative reaction to the note was mostly to do with its value, rather than people's feelings about the disputed islands. Many felt the Government should have issued a 500-peso ($57) note instead. Argentina has one of the highest inflation rates in the world, estimated by independent experts to stand at over 35% in 2014, double the official figure. Currently the highest value banknote in Argentina is 100-peso ($11.50) .
The new banknote was noticed in the Falkland islands too. People there voted to remain a British overseas territory in 2013. On Twitter, they used the economic crisis in Argentina to mock the bank note.
Was the introduction of the banknote intended to divert attention from the current criticism of Argentina's government, after a prominent prosecutor was found dead? Many made that claim online but in fact, the decision to introduce the new note was announced a year ago, Economist Abraham Gak from the University of Buenos Aires told BBC Trending. The surge of online criticism is "not about a 50 peso bank note nor about Malvinas," he says, rather it is "about opposition to the government".
Blog by Gabriela Torres
Next story: The Indian Muslim student beaten for posing with his female classmates
Or maybe you'd like to read: Spaniards turn against domestic violence football chant
You can follow BBC Trending on Twitter @BBCtrending. All our stories are at bbc.com/trending