McDonald's Facebook campaign enrages Mexican tamale fans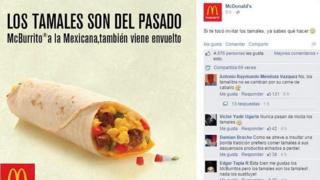 We have seen it before - if there is one thing people should think twice about, it is messing with popular food.
It happened to Jamie Oliver when he launched his version of the West African classic and it is happening now with McDonald's and Mexican tamales.
This week the fast food chain decided to launch a Facebook campaign urging Mexicans to leave their beloved tamales in the past and embrace McBurritos instead. Predictably, it backfired.
"How dare you insult a beautiful tradition. I'd rather eat tamales than your disgusting food," Damian Bracho commented.
The image of a McBurrito, a sort of scrambled egg in a tortilla wrap, accompanied by the slogan "Tamales are a thing from the past", was soon removed from the company's Facebook page.
About 650 tweets targeted McDonald's account in this vein: "Don't mess with tamales because #YaMeCanse [I am tired]," wrote one user. "Lack of sensitivity by McDonald's Mexico for a country's tradition, terrible marketing taste," another user, Javier Hidalgo, said. Others shared images of tamales and other food.
Within hours, McDonald's got the message. It not only took down the offending image but it also published a statement apologising for the campaign. "McDonald's respects the traditions and beliefs of all countries where we have the opportunity to do business. That is why on our menus we include local dishes (…) we apologise to all of the people who felt offended by our post, which was removed from all of our social media sites." We've asked them for further comment - and we'll let you know if we hear back."
More from Trending:
Pegida in the UK: Don't believe the 'likes'
Scorn over 'overweight' obit for famous Australian writer
You can follow BBC Trending on Twitter @BBCtrending. All our stories are at bbc.com/trending