Pegida in the UK: Don't believe the 'likes'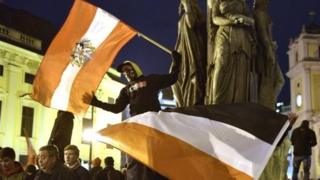 It can seem like Germany's "anti-Islamisation" movement, Pegida, has a growing following in the UK and other European countries since the Paris attacks - especially if you believe what you see on Facebook. But does it really?
It's a movement with its origins in social media. Patriotic Europeans Against the Islamisation of the West - known by the German acronym Pegida - began on Facebook before a series of demonstrations in the east German city of Dresden got international attention. The group wants tougher immigration laws and restrictions on asylum-seekers. Critics say it's anti-Muslim and counts fascists among its supporters.
Since the Charlie Hebdo attacks, dozens of Pegida chapters have popped up online, prompting some reports that the group is establishing a bigger presence across Europe - in France, Norway, Sweden, Belgium, Spain, the UK and other countries where local Pegida Facebook pages have sprung up.
The Pegida UK Facebook page has been "liked" more than 12,000 times. The page was started very shortly before the Charlie Hebdo attacks, so most of those likes came after the events in Paris. But BBC Trending analysis shows these clicks aren't predominantly from the UK. We used analytics platforms to break down Pegida's Facebook activity by geography. Only about half of those liking the Pegida UK Facebook page are actually living in Britain - with a sizeable chunk of the page's support coming from Germany.
It is German internet users who are also driving the growth of Pegida Facebook pages in other countries, according to PEGIDA#watch, a group of left-wing activists who monitor Pegida's online activity. PEGIDA#watch says supporters in east Germany often like multiple other Pegida groups and create fake profiles to boost numbers.
BBC Trending spoke to a Pegida UK leader who goes by the name "David". We contacted him using the Facebook page but have not been able to verify his identity. He says the leaders of the groups are trying to remain anonymous until an official spokesperson is chosen. David told Trending that he is of German-Swiss background but is based in the UK and that most of the Pegida UK leadership - which currently numbers about 20 members - is British. He said the group doesn't create fake Facebook profiles, but did acknowledge that many people liking the group were not living in the UK.
"Of course there are a lot of Germans on there... Germans are enthusiastic because it is their movement and they comment a lot," he said. But he claims that actual British based people are now interested too. "Most of the people who are now liking the page in the past few weeks are British," he said.
Of course Facebook likes alone do not add up to a political movement. There have been relatively small street protests by Pegida chapters in a few European countries including Denmark, Norway and the Czech Republic. The first Pegida UK march is planned for later this month in Newcastle. Why Newcastle? "It's a very British city: there are not as many left-wingers and Muslims as in London and Birmingham," David said. "We don't have any problem with counter-demonstrations. We're not going to fight anybody and I hope they respect us."
As we have reported before, Britain has its own right-wing extremists on Facebook. "A problem is that a lot of far-right movements are trying to hijack the Pegida groups," David said. It appears that members of the English Defence League were among those who initially tried to take control of the Pegida UK Facebook page.
The Pegida UK page includes a number of racist and offensive comments, some advocating widespread violence - which is why we're not linking to it - and David said that while such comments were against the group's policies, leaders have not yet had the time to moderate the page.
Facebook likes aside, Pegida's growth has been hit by various setbacks recently. Even within Germany, Pegida demonstrations outside Dresden have been sparsely attended. Data collected about Germany by the British anti-racism group Hope Not Hate indicate that group's marches have only attracted significant numbers in a handful of cities, and in most places the number of counter-demonstrators has far outweighed the Pegida marchers. Inside Germany, five Pegida leaders resigned after photos emerged of founder Lutz Bachmann dressed as Adolf Hitler. The group held its first march in Austria on Monday - but only attracted a few hundred supporters.
Blog by Mike Wendling
More from Trending:
Who is the mysterious donor giving thousands to gamers?
Scorn over 'overweight' obit for famous Australian writer
You can follow BBC Trending on Twitter @BBCtrending. All our stories are at bbc.com/trending