#FreeSpeechStories: A family feud on the French far-right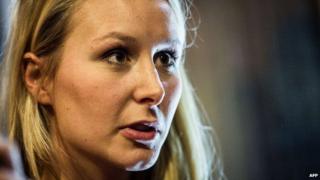 We all have disagreements with our families, and fortunately most of them don't play out on social media. But a very public spat between a young right-wing MP and her aunt has gripped social media in France.
This isn't just any family - it's the Le Pen clan. They rule the far-right Front National (FN) party. Jean-Marie Le Pen was its founder and his daughter Marine Le Pen is the current leader.
The next generation is Marion Marechal Le Pen, who is Marine's niece and Jean-Marie's granddaughter. She was only 22 when she was voted into the French Parliament, making her the country's youngest MP in modern history.
But those three relatives don't all always agree with each other. Marion disobeyed her aunt's orders by sharing a controversial anti-Muslim video with her thousands of followers on Twitter.
The video was posted by Aymeric Chauprade, another FN politician. In it, he says among other things that France is at war with Islam and that the argument that there is a peaceful Muslim majority doesn't hold - as the majority of Germans were also peaceful before Adolf Hitler came to power there.
The video has been subject of a complaint by the anti-racism organisation, SOS Racisme. Marine Le Pen herself immediately distanced herself from Chauprade and asked party members not share it for legal reasons.
Not only did Marion Le Pen disobey her aunt, but Jean-Marie Le Pen - who once famously said that the Holocaust was a small detail of history and has been prosecuted several times for anti-Semitic remarks - followed suit, and posted the video on Twitter.
FN supporters were divided over the video on social media. Some hailed Chauprade for being brave: "Dear Marine," wrote one Twitter user, "Chauprade is the one who is right."
But others were critical of the video.
"#Chauprade is astonishingly stupid," tweeted one. "he picks up pub arguments that link Islam and Nazism."
Commentators in France have said the FN has struggled to hit the right note after the Paris attacks. Public support for the Charlie Hebdo victims has not translated into significantly greater support for Marine Le Pen, while the government has received a popularity boost, according to polls.
You can follow BBC Trending on Twitter @BBCtrending.
All our stories are at bbc.com/trending