Muslims react to new Charlie Hebdo cover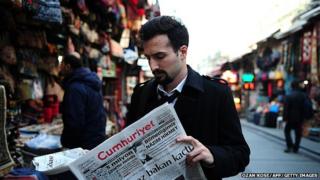 Muslims on Twitter are mostly using two hashtags to protest a drawing of the Prophet Muhammad on the cover of Charlie Hebdo.
After an initial low reaction when the cover image was revealed, several conversations have caught fire on social media as the magazine went on sale Wednesday. #WhoIsMuhammad? has been shared more than 167,000 times and the numbers are still rising. It was started by a Twitter user called @SpanishKash1.
"I was on the verge of tears," he says, after he saw the image of Muhammad on the front of Charlie Hebdo's latest edition. He's urging supporters to change their avatar to the Prophet's name in Arabic. While pictures of Muhammad are taboo in Islam, artistic representations of the letters making up his name are acceptable.
The plan was announced at 17:55 on Tuesday with a rallying tweet he sent to his network after the cover design was revealed.
He tweeted: "So if you don't know the filth at Charlie Hebdo are planning on releasing fresh cartoons of our beloved Prophet. This is unacceptable.
"Let's capitalise on this opportunity with all the media focusing on the Prophet Muhammad and seize the opportunity to educate non Muslims.
So I'm proposing we the Muslims on Twitter do a trending topic on the Prophet pbuh (peace be upon him) and tweet about him."
The hashtag has generated a lot of messages about Islam and about the life of Muhammad which are being shared. A man in Malaysia picked up on it and tweeted: "#WhoIsMohammed is now trending in UK. Please read some of the most beautiful tweets about the Prophet."
Also trending worldwide is a hashtag from Turkey - #ÜlkemdeCharlieHebdoDağıtılamaz, which translates as "Charlie Hebdo cannot be distributed in my country." This tag is a reaction to the publication of Charlie Hebdo cartoons in two columns of an Istanbul newspaper, Cumhuriyet.
Behind the hashtag is a group of university students in Sakarya, more than 80 miles from Istanbul. But they are quick to clarify that the attacks in Paris and the publication of cartoons are separate issues to them.
"We are against the cartoon - not the cartoonist. We are not against Charlie Hebdo or Cumhuriyet. We are against the cartoons they published," Ozcan Ayma, the 28-year-old president of a local student union, told BBC Trending.
"We are not going to allow this insult to be repeated. Do not stay silent," said one tweet, while popular Twitter users like pro-government journalist Fatih Tezcan urged his followers to make the hashtag a worldwide trend.
The call for action seems to have worked - more than 70,000 have used the hashtag #ÜlkemdeCharlieHebdoDağıtılamaz in the last 24 hours, and it was trending worldwide for a while, although not everyone in Turkey supports the message.
A small section of Turkey's twittersphere has been using the hashtag #JeSuisCumhuriyet since Tuesday to express support for the paper. "Where on earth can you find an advanced country in which freedom will be restricted just because some people will be provoked," tweeted a widely-followed account. And now, it's been reported that a court in southeastern Turkey has ordered a ban on access to web pages showing Charlie Hebdo's front cover.
Blog by Samiha Nettikkara and Sitala Peek
You can follow BBC Trending on Twitter @BBCtrending
All our stories are at bbc.com/trending