#BBCtrending: The internet responds to Murdoch on "Moslems"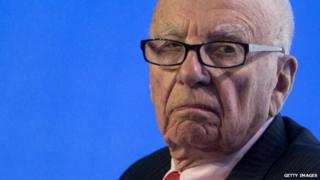 Are all Muslims responsible for the "growing jihadist cancer"? That's what a tweet by Rupert Murdoch seemed to argue - and so the debate began.
Online, a great deal of the response to the Australian-American News Corp chief executive was anger. His tweet last week suggested that even peaceful Muslims must "recognise and destroy their growing jihadist cancer" and that until they did they "must be held responsible". He had posted this in the wake of the deadly attack on Charlie Hebdo magazine in France.
Many were upset. Several on Twitter - including lots of Australians - apologised for Mr Murdoch and claimed responsibility for incidents perpetrated by people from their respective countries or faiths. "As a conservative white Australian, I sincerely apologise for Rupert Murdoch. #JeSuisEverybodyNewsCorpAttacks," one tweet read. "Rupert Murdoch thinks all Muslims should apologise for terrorism. So on behalf of white people I'd like to apologise for Rupert Murdoch," wrote novelist Matt Haig. "Most Ruperts are reasonable people, but until they stand up to and apologise for @rupertmurdoch they must all be held responsible," joked another user.
The anger was with the idea that all Muslims are "responsible" rather than a minority. There has been a growing conversation on social media about whether "moderate" Muslims on social media are under pressure to openly condemn jihadist attacks. BBC Trending in September reported on #MuslimApologies, the hashtag that came about in response to the anti-Islamic State campaign #NotinMyName. Among the prominent voices to join the backlash against Mr Murdoch is author JK Rowling, "I was born Christian. If that makes Rupert Murdoch my responsibility, I'll auto-excommunicate." Her tweet has been shared and marked as favourite more than 20,000 times. (Mr Murdoch's original tweet received one-fifth of the response at the time of filing this report).
Others however felt that the debate initiated by Mr Murdoch was a reasonable one. One Twitter user said that he did not often agree with the mogul, but that his post was "spot on this time". "It's up to right thinking Muslims to actively stamp out this disease," he added. "Current status: Self-defensive Islam apologists disagreeing with Rupert Murdoch. Intel reports around the world agreeing with him," another tweet read.
The lack of consensus is also reflected in an ongoing survey about the tweet conducted by polling company YouGov. The website said that currently 42% of those who participated in the poll agreed with Mr Murdoch's tweet, while 45% disagreed.
The latest hashtag taking on Rupert Murdoch is #RupertsFault, which was first used on Sunday by an American comedian born to Indian Muslim parents, Aziz Ansari. Ansari posted a series of angry posts accusing Mr Murdoch of "back pedalling" after the mogul tweeted praise for the Muslim police officer Ahmed Merabat who died during the Charlie Hebdo attack. "You are Catholic, why are you not hunting paedophiles? #RupertsFault," he tweeted. "Rups can we get a step by step guide? How can my 60 year old parents in NC help destroy terrorist groups? Plz advise," he said in response to Mr Murdoch's tweet.
More than 15,000 tweets have since been posted using the hashtag #RupertsFault, blaming Murdoch for everything from the ban on gay marriages to the Kardarshians.
Reporting by Samiha Nettikkara
You can follow BBC Trending on Twitter @BBCtrending. All our stories are at bbc.com/trending