#BBCtrending: Leelah Alcorn's public suicide note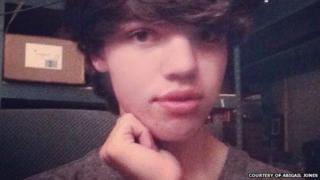 "If you are reading this, it means I have committed suicide and obviously failed to delete this post from my queue."
So starts a suicide note written by Leelah Alcorn, a 17-year-old transgender teenager who died this week in the US state of Ohio. Alcorn scheduled the note to be published several hours after her death.
In the letter posted on Tumblr, she said she killed herself after years of struggling with her strict Christian parents' refusal to acknowledge her true identity as a female.
"There's no winning. There's no way out... People say 'it gets better' but that isn't true in my case. It gets worse. Each day I get worse," Alcorn wrote in the post which has since been reblogged more than 196,000 times. The hashtag #LeelahAlcorn also went viral, with more than 243,000 mentions over two days.
Alcorn ended her note with a plea: "The only way I will rest in peace is if one day transgender people aren't treated the way I was... My death needs to mean something. Fix society. Please."
Many saw the public suicide note as a way to both provide awareness of trans issues and provide Alcorn a final measure of dignity.
"By scheduling tumblr posts, #LeelahAlcorn defeated measures by her parents to defame her legacy, her life, herself," wrote Twitter user @Unit0053.
User @RozeWithaZee tweeted, "Just had an epiphany that #Tumblr saved #LeelahAlcorn's life from being misrepresented entirely. She was able to tell her actual story."
But experts say there are risks to a message of this nature going viral.
"In a way, it's a double-edged sword," said Christine Moutier, chief medical officer at the American Foundation for Suicide Prevention.
Moutier explained that stories like Alcorn's can be used to raise awareness about suicide, transgender issues and mental illness - but that high-profile suicides sometimes come with tragic, unintended consequences.
"It's sensationalised in and of itself," Moutier said of the post, noting that the phenomenon of suicide contagion, where one suicide leads to the death of others, is especially high among troubled teens.
Moutier also notes that while Alcorn's note focuses on the external circumstances that led her to kill herself - what she felt was a lack of acceptance by her religious parents - it only touches on the mental health problems that underlie more than 90% of suicides.
Tumblr could not comment on Leelah Alcorn's post, but the sharing platform's community guidelines seem to reflect the grey area between using social media as a forum to help those who feel alienated and alone, and the danger of providing a place where disturbing messages can be shared globally.
The policy states "don't post content that actively promotes or glorifies self harm," but recognises that the internet is a place where people dealing with suicidal thoughts, eating disorders and cutting look for support.
"Dialogue about these behavours is incredibly important and online communities can be extraordinarily helpful to people struggling with these difficult conditions. We aim for Tumblr to be a place that facilitates awareness, support and recovery, and we will remove only those posts or blogs that cross the line into active promotion or glorification of self-harm."
Whether Alcorn's note is seen as a springboard for change or a trigger for other at-risk youths remains up for debate - but either way, her note has sparked a global conversation.
Reporting by Brenna Cammeron
You can follow BBC Trending on Twitter @BBCtrending
All our stories are at bbc.com/trending