Indian official's rage over road works becomes an online hit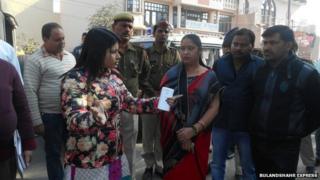 A district magistrate scolding civic officials and contractors for what she says is shoddy road construction has become an online hit.
Almost a million people have viewed the footage of B Chandrakala, the District Magistrate of Bulandhshahr, giving the group of men a dressing down since it was posted on Facebook yesterday.
"So much money is coming from the government, but can you see even one developmental work in the city?" she says on the video.
One of the people she's addressing protests, but Chandrakala is quick to respond: "Is this the work that is happening? Hit two bricks together and it's over. Is this your work?
"Have some shame," she continues. "This is the public's money."
"We need Officers like this in India!" is the title of the video posted on YouTube, and her performance has been applauded by many viewers.
"Its a shame that we have to be proud of people when they do their job," commented Munish Nainani on Facebook: "Goes to show how far the other bureaucrats have fallen who just don't do their job."
"This is a perfect example to those who think 'what will happen when u give power to a women'," commented Sunny Sengupta on Facebook. "This is what happens when u give power to a women ... they have the guts to stand up against corruption ... ma'am a salute to u."
B Chandrakala told BBC Trending she was on a routine inspection of Bulandhshahr's roads following complaints about the quality of some of the works, and hadn't arranged for the filming to take place.
Rahul Goel, editor of local news website Bulandshahr Express, was one of the first people to post the video on the day the events took place, 11 December.
"The road in question has been constructed and damaged three times already," Goel told BBC Trending. "The road was constructed at night and it would fall apart the next day. Then, it would be constructed again and, again, fall apart. This has happened three times now and people complained.
"We also shared the video on WhatsApp and it went viral in the city. They are hopeful about progress for the first time - they have never seen an official like this before."
The poor standard of road construction is a commonly-heard complaint in India.
Reporting by Samiha Nettikkara
You can follow BBC Trending on Twitter @BBCtrending
All our stories are at bbc.com/trending