#BBCtrending: Garner decision widely condemned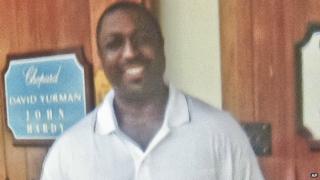 News that New York Police officer Daniel Pantaleo will not be charged for the death of Eric Garner was greeted with condemnation across the political spectrum on Wednesday afternoon.
"It seems like the only people who didn't think the cop who killed Eric Garner should have been indicted [charged] were on that grand jury," tweets the Washington Post's Matt O'Brien.
After being confronted by police for selling untaxed cigarettes, officers attempted to arrest Garner. Mr Pantaleo placed him in a chokehold and wrestled him to the ground, while three other officers attempted to put him in handcuffs.
Garner, gasping that he couldn't breathe, went into cardiac arrest and died in an ambulance on the way to a hospital. A coroner's report found that his death was the result of compression of the neck and chest, complicated by pre-existing health conditions.
Commentators were quick to offer sharp words on political websites and through social media.
"As it stands, there is no amount of force an officer can use that isn't unjustified, regardless of the situation," tweets Slate's Jamelle Bouie.
The Federalist's Sean Davis points to the video of the incident, filmed by a bystander, as nearly irrefutable evidence that Garner's death was "completely unnecessary".
"He wasn't a mortal threat to anyone," Davis says. "He carried no weapons. He did not shove or attack any police officers in such a way to be considered an imminent threat to their health and safety."
Davis looks at New York's laws governing second-degree manslaughter -"recklessly" causing the death of another person - and opines that Mr Pantaleo appears "at least" guilty of that charge.
The failure to indict is a shocking example of the criminal justice system's failure to provide oversight of the nation's police, writes Leon H Wolf of the RedState blog.
"I understand the vast majority of cops are good at their jobs and conscientious about protecting the civil rights of citizens," he says. "But there are without a doubt bad cops who make bad decisions and when they do so from a position of authority the damage they can do is exponentially worse."
Vox's Amanda Taub writes that the bigger scandal is that current legal standards make prosecuting police violence almost impossible.
"The set of situations in which police officers are allowed to use force is narrow in theory but broad in application," she says.
Other commentators wonder whether the results in the Garner case reveal that the recent drive to equip police officers with body cameras will do anything to solve the perception of unaccountable law enforcement.
"What good will body cameras do when an unarmed black man is RECORDED being killed and the officer STILL gets away with it?" tweets Fast Company editor JJ McCorvey.
For now the reaction to the Garner decision stands in sharp contrast to the months long debate over the police shooting of Michael Brown in Ferguson, Missouri, which had exposed sharp political and racial divides across the US.
That may not remain the case for long, however. Salon's Joanna Rothkopf was quick to criticise conservative commentators for glossing over race and police brutality issues and focusing on the cigarette taxes that the New York police were attempting to enforce.
"It's not the officer's fault for using an illegal chokehold on a non-violent asthmatic man," she writes. "It's the tax's fault for existing."
Politics never rests for long.
Reporting by Anthony Zurcher
You can follow BBC Trending on Twitter @BBCtrending
All our stories are at bbc.com/trending