BBC Trending radio: YouTube star LeFloid and a maid gets rescued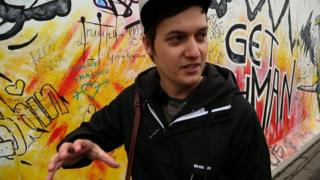 Listen to BBC Trending's latest programme or download the podcast. This week:
A German YouTube Star
Charlotte McDonald travels to Berlin to meet one of Germany's biggest YouTube personalities, LeFloid. The 27-year-old vlogger is the man behind 'LeNews', a channel that takes a different approach to current affairs to get people talking.
Rescue in Saudi Arabia
When a Filipina domestic worker in Saudi Arabia posted a video of her living conditions it was shared half a million times. We find out how the video led to her rescue and provoked debate in Saudi Arabia and other Gulf countries.
The Trending Minute
A flying lamb chop, #fergusonriottips, dancing in Iran and pit bulls in America - all in sixty seconds.
Presented by India Rakusen and Charlotte McDonald.
You can put us in your pocket and listen anytime by downloading our free podcast. We're on BBC World Service radio at 10:30 GMT on Saturdays.