#BBCTrending: 'Buying black' on Black Friday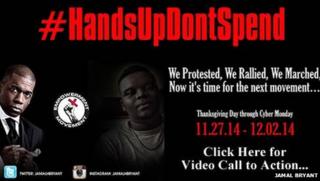 A spiritual advisor to the family of Michael Brown, the teenager killed by police in Ferguson, is urging African-Americans to buy exclusively from businesses owned by black people on America's busiest shopping day.
Jamal Bryant launched his campaign earlier in the week using the hashtag #handsupdontspend - a reference to a slogan used by Ferguson protesters. It's been tweeted more than 7,000 times, with other hashtags pushing the campaign including #notonedime, #boycottblackfriday and #blackoutblackfriday.
"It's my hope that black businesses and the black community will benefit," he says, citing a study that said African-Americans collectively spend $1 trillion a year. He says that a sustained campaign of economic pressure would serve as a protest against police violence.
"America responds to money more than they do to masses," Bryant says.
Kicking back against Black Friday - the day after America's Thanksgiving holiday, when stores routinely offer big discounts - isn't a new idea. For more than 20 years the anti-capitalist magazine Adbusters has urged people to give the shops a miss on what it calls 'Buy Nothing Day'.
Bryant stressed his action isn't a boycott but rather a call to support businesses owned by black people across the United States.
"We are not asking people not to send their money out of the community, but to spend it at home," Bryant told BBC Trending.
The events in Ferguson over the past week have inspired a number of online fundraising drives, including one by a bakery that was damaged during rioting and, as BBC Trending reported, the Ferguson public library.
Bryant cited the 1960s civil rights movement as an example of the power of economic action.
"Civil rights really came to national attention as a result of the Montgomery bus boycott," he said, referencing the time when black people in Alabama, led by Martin Luther King Jr, stopped riding public buses to protest segregated seating.
But the campaign will have some way to go to overcome the general appetite for holiday shopping. #BlackFriday was already one of Twitter's top trends on Thursday, with more than 400,000 tweets over the past week.
Reporting by Mike Wendling
h/t Estelle Doyle
You can follow BBC Trending on Twitter @BBCtrending
All our stories are at bbc.com/trending