#BBCTrending: Anonymous takes on the Ku Klux Klan
By BBC Trending
What's popular and why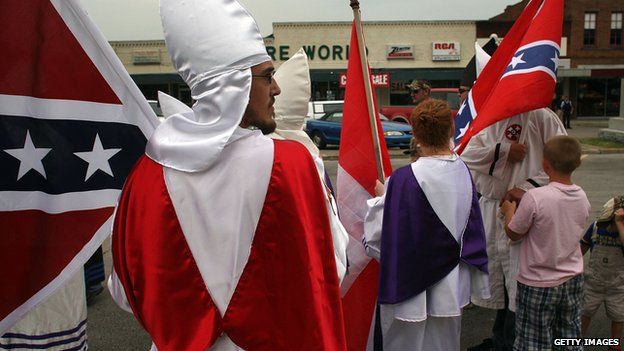 Did the hacktivist group Anonymous go too far in fighting the KKK?
With a promise that "This is just the beginning," the international hacktivist group Anonymous continued to control the Ku Klux Klan's online presence on Tuesday days after the KKK threatened to hurt potential protesters in Ferguson, Missouri. On social media, many celebrated the online group's actions.
The Anonymous cyberwar started during the weekend after the white supremacist group issued a warning to any potential rioters waiting for a grand jury decision on a possible charges against Ferguson police officer Darren Wilson, who shot and killed unarmed black teenager Michael Brown in August.
Using the hashtags #OpKKK and #HoodsOff, Anonymous "unhooded" alleged Klan members online, and provided links to social media accounts which contained their photos, addresses, phone numbers, ages, workplaces, and photos of their children.
Most Twitter users appeared supportive of Anonymous.
"I daresay that @KuKluxKlanUSA will remember, remember, remember the 16th of November. Bravo, Anonymous, Bravo. #oppKKK #hoodsoff," wrote Carlos Larkin.
After back-and-forth taunting, in which the KKK wrote "We are continuing to read Anonymous threats with much amusement" and "I thought you Anons were all about free speech. Cowards!", Anonymous gained access to the KKK website and took over its Twitter account.
The most recent tweet from the hacked @KuKluxKlanUSA account was on Monday evening, showing a unicorn and rainbow in front of a sunset scene.
Responding to criticism about violating free speech, Anonymous released this statement:
"We are not attacking you because of what you believe in, as we fight for freedom of speech. We are attacking you because of your threats to use lethal attacks against us at the Ferguson protests… The Ku Klux Klan is a terrorist group. The blood of thousands of human beings are on the hands of the Klansmen."
Although every American has a right to free speech, The Southern Poverty Law Center, a civil rights organisation that tracks hate groups, argues that the right does not include permission to organise hate crimes.
But while they have also exposed members of hate groups, they take a different approach than that of Anonymous.
"As a general matter, we will out people if we feel they are major player in the movement," said Mark Potok, a senior fellow at the Law Center.
"We would never post pictures of their kids, or where they live. We don't out any small person who has radical right views; only if they are hiding behind anonymity to do something really loathsome."
For its part, Anonymous is not giving up.
"Let the cyberwar begin," it announced in a video. "We are legion. We do not forget. We do not forgive. Ku Klux Klan, you should have expected us."
Reporting by Celeste Altus