#BBCtrending: The US man 'delivered' from homosexuality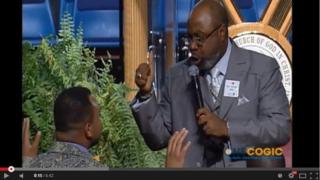 Footage showing a man renouncing his homosexuality at a church event in St Louis has been viewed more than a million times - and now the man in question appears to have spoken out on Facebook.
"Coming out" stories are routine events on YouTube, but seeing the narrative reversed is more rare. "I'm not gay no more," says the man in the film, shot last week at a major gathering of the Church of God in Christ, a Pentecostal church with branches across America. It's a "deliverance" in which the man tells the crowd God has rid him of a demon - in this case his homosexuality. Now, he says, he likes "women, women, women". The preacher and other members of the crowd swarm around him, and join him in dance. It's been watched more than half a million times on both YouTube and World Star Hip-Hop, another video sharing site. The events in the video are so dramatic that several people questioned whether it was genuine. BBC Trending contacted Robert Coleman of the Church of God in Christ, who says it is indeed real footage, but doesn't know who uploaded it. The YouTube version has now been set to "private".
As might be expected, much of the objection came from supporters of gay rights. Damion-Parks Weekly, a gay man who left a similar church, posted a response encouraging others to do the same. "I feel really sad for the young man," he tells BBC Trending. Freda Harris shared the original video on Twitter. She is also gay, and grew up in a similar church. "People who aren't familiar with the Pentecostal religion, they probably find it funny," but "deliverance" services are commonplace, she says.
She's not wrong about people finding it funny. Swathes of people commenting seemed to find the clip hysterical. A parody which turns it into a song has been watched more than 300,000 times. "Gotta be the funniest video I've watched in 2014," tweeted one viewer, and "IN TEARS LAUGHING", wrote another on World Star. Many were referring to the man's fevered style, unusual grammar, and elaborate yellow bow-tie.
The man has now been named by a number of news outlets as Andrew Caldwell. Someone of the same name has posted on Facebook discussing his difficult upbringing, and saying he renounced homosexuality because his "lifestyle was not right", though we cannot verify this information.
"Homosexuality has always been a touchy issue in the Black church," says Lance Scurvin, who hosted a podcast about the video. He says many Pentecostal churches have gay members whose sexuality is rarely discussed in public, and for them the video shines unwanted attention on the matter. But for him, the film's popularity is as much about its tone as anything else. "The black church is being mocked for its circus like atmosphere."
A statement released by the Church of God in Christ to the BBC said that whilst it would not compromise its position "in favour of biblical teaching on matters of sexual conduct" - or in other words that it does not approve of homosexuality - it expected its leaders to be civil and considerate, and condemned harassment in all forms. "We love all people, regardless of their faith or moral standards," it said.
Reporting by Sam Judah
You can follow BBC Trending on Twitter @BBCtrending
All our stories are at bbc.com/trending