#BBCtrending: Does Guatemala need to be 'rescued'?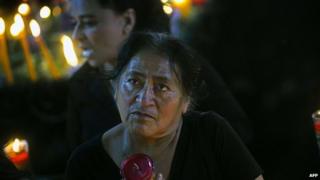 Corruption scandals, protests and violence are not new in Guatemala - but in the past few days thousands have declared that "enough is enough" by using a new Twitter hashtag.
This isn't the first time that the Twitter user "Mr Lord Chapin" - who is widely followed but wouldn't tell the BBC his real name - has tried to create a trending topic. He's a student in Guatemala City, the capital of a nation of 15 million people known both for its natural beauty and problems with endemic violent crime. He says every hashtag he has created has a reason behind it. "Sometimes it is for love, others are for a joke and occasionally I try to make people talk about our culture," he tells BBC Trending. But last weekend he decided to create a broad brush protest about the state of the nation: #RescatemosAGuatemala (Rescue Guatemala). The hashtag caught fire, with over 5,000 tweets - a large number in a country where 54% of the population live in poverty, and the majority do not have access to the internet.
Why does he think Guatemala needs to be rescued? "Our country has collapsed with the amount of corruption," he says. The most recent scandal involves the arrest of the vice-president's lawyer, for allegedly trying to bribe a magistrate of the Supreme Court. He is frustrated about the lack of action in cases like this. "No one here seems to do anything about it," he says.
The plea to "rescue" Guatemala didn't seem to be directed at anyone outside the country. Rather, Guatemalans seemed to be spurring each other on to take action over longstanding problems. After the hashtag caught on, people used it to discuss more than just corruption. "Let's rescue Guatemala so we don't have to go abroad for a better future," said one. "#RescatemosAGuatemala from the indifference towards the poor," wrote another. Julio Arroyave tweeted that Guatemala needed to be rescued from its own politicians. "Our country is divided by an unequal distribution of wealth," he tells BBC Trending. "And politicians take advantage of ignorance and illiteracy to do what they want."
The conversation has now moved on with a new hashtag. #RescatemosAGuatemala has been replaced by #YaEsTiempoGuatemala (It's time Guatemala), which has been tweeted over 1,000 times in just 24 hours.
Reporting by Gabriela Torres
You can follow BBC Trending on Twitter @BBCtrending
All our stories are at bbc.com/trending