#BBCtrending: The murders that followed a WhatsApp curfew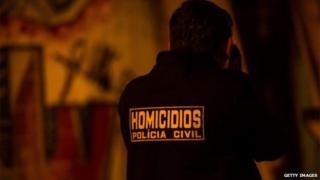 After a policeman was shot in Brazil, a mysterious message began circulating on the WhatsApp chat app telling people to stay indoors. That night, ten people were killed.
On Tuesday evening a police officer, Antonio Marcos da Silva Figueiredo was shot dead in Belem, northern Brazil. News of his death began circulating on WhatsApp, an instant messaging app.
Within a few hours, residents of the city began receiving more unusual messages, forwarded on from family and friends. All contained the same information. Some were in text form, but one of the most popular messages was an audio clip. "Don't go to Guama, Canudos or Terra Firme tonight. It concerns your security," it said. "One of our policemen was killed and we will be cleaning the area."
Was the warning from the police force, then? Not exactly. "There's no stopping any of us, not even the highest colonel. The boys are on the loose," the message continued, before concluding with a final warning: "Please stay at home. Don't go hanging out on street corners." It wasn't an official public service announcement, but apparently sent by renegade officers, seeking revenge for their fallen comrade.
The clip frightened Joao Batista, a 19-year-old resident of the city, who received the message. "This is the first time I remember seeing something like this spread right around the city and causing such fear," he tells BBC Trending. It has been impossible to trace the origin of the message. Batista received it from friends, who in turn say they received it from friends, and so on.
That evening, ten people were shot dead. Witnesses say the killers rode motorbikes on a six-hour killing spree. People in the areas affected shared photos of what appear to be dead bodies left in the streets of Belem. Were the murders carried out by off-duty policemen, then? "We don't know for sure, but It looks like that," says Camilla Costa, a BBC journalist based in Sao Paulo. This wouldn't be the first time it had happened. Earlier this year a policeman was shot in Campinas, another Brazilian city, leading to a revenge attack by police officers who allegedly killed 12 people, says Costa.
In this case, it might have been police officers using WhatsApp as a way of warning people to keep off the streets. But the tactic is more usually employed by criminal gangs in the area. Police all over Brazil have been investigating criminal gangs using WhatsApp to impose curfews during expected confrontations with other gangs, or the police, or even to negotiate the price of drugs.
For now, in Belem, tensions remain high, according to Batista. He says new messages are now circulating on WhatsApp suggesting the cycle of violence between criminals and policemen will continue, especially in poorer neighbourhoods. In the immediate aftermath his university classes were suspended, he says, and "some people are even staying indoors".
You can follow BBC Trending on Twitter @BBCtrending
All our stories are at bbc.com/trending