BBC Trending: Clowns strike fear in France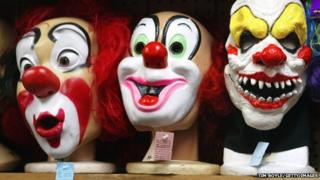 Listen to or download the latest Trending podcast
Why are youths dressed as clowns terrorizing people in France? We look at the growing interest in prank videos involving clowns, and how this has transferred onto the streets of France. We also examine the subsequent trend of online groups calling for the clowns to go away. The number of people who have been apprehended by police are small, but the chatter online is substantial.
Also, in the fight against Islamic State, why has the 'Angel of Kobane' gone global? We unravel the myths behind a striking image of a female Kurdish fighter in the northern Syrian town of Kobane, who apparently killed over 100 men from Islamic state. Her picture has been shared thousands of times around the world.
You can put us in your pocket and listen anytime by downloading our free podcast and we are on BBC World Service radio at 10:30 GMT on Saturdays.
The programme was presented by Mukul Devichand and produced by Charlotte McDonald.