#BBCtrending: Toilets, free speech and transgender rights in Texas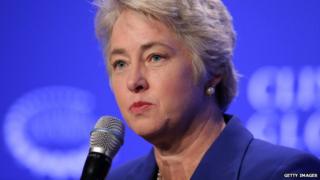 A legal battle over who can use men's and women's public toilets in Houston, Texas, has spiralled into a social media war about basic American freedoms, and is still gathering speed.
The story begins in May, when the city passed an ruling intended to strengthen the rights of minority groups. One detail was that transgender people were given the right to use male or female public toilets based on their own choice. The ruling was widely promoted by Houston's mayor, Annise Parker, and dubbed the "Bathroom Bill" by her conservative opponents. A group of Christian pastors gathered 50,000 signatures demanding the law be repealed.
The pastors had hoped to trigger a legal mechanism to repeal the law, but the city struck this down. So the pastors filed a lawsuit. The city's lawyers then sent subpoena orders to to see the sermons and speeches of five pastors in particular. The city wanted to see what they had been saying on the topics of homosexuality, gender identity and Mayor Parker herself, who is lesbian.
When the news was reported earlier this month, social media users were outraged. They saw demands for the pastors' information as an attack on the First Amendment, which guarantees freedom of speech and religious expression. On Twitter, a hashtag promoted by Christian campaigners - #HoustonWeHaveAProblem - sprung to life, and has appeared more than 5,000 times in the last ten days. "I guess Houston's mayor's next move is to collect all bibles and redact the verses pertaining to homosexuality," tweeted one. The campaigners are calling on the city to "cease and desist all bullying and other offensive actions" against the pastors. Their online petition has had more than 11,000 signatures.
Actor Chuck Norris has now weighed in on the debate in his column on a news website. "I'm a Texan and it chaps my hide when some homegrown kibosh of the U.S. Constitution originates in the Lone Star State," he wrote.
Mayor Parker has not remained silent on the issue. Earlier this month she tweeted: "If the 5 pastors used pulpits for politics, their sermons are fair game," but later deleted the message. And now public pressure has forced the city council to row back on its demands to see sermons and emails - saying it only wants to see the pastor's speeches. "Never intended to interfere w/ pastors & their sermons or an intrusion on religion," Parker tweeted, when the announcement was made.
The controversy shows no sign of dying down. On Monday Mike Huckabee, former Republican governor for Arkansas and Fox News commentator, called his followers to sign yet another petition supporting the pastors. The number of signatories do not appear on the site, but later that day he claimed it had already received more than 85,000 signatures.
Reporting by Samiha Nettikkara
You can follow BBC Trending on Twitter @BBCtrending
All our stories are at bbc.com/trending