New Hampshire pumpkin riot shows US divisions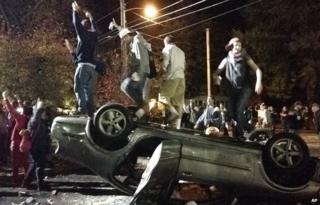 When a New England pumpkin festival was the unlikely setting for disorder, comparisons were drawn with protests elsewhere.
Who knew a winter squash plant could provoke such mayhem?
Keene Pumpkin Festival, held annually at a New Hampshire liberal arts college, descended into chaos, with drunken students throwing bottles, overturning vehicles, lighting fires and fighting with police.
Officers responded by firing tear gas. Swat equipment, dog units and pepper spray were all deployed, according to reports.
The event is normally a source of pride for New Englanders. The previous year's festival saw a world record set when 30,581 jack-o'-lanterns were carved and lighted. Political candidates such as Republican Scott Brown and Democrat Howard Dean have visited the event, which took place near Keene State College.
On social media, many users were struck by the incongruity of street violence breaking out in such a setting.
"Never thought I'd c the words pumpkin and riot in the same sentence," tweeted @yldrose. @DrewHampshire added: "First New England punk band to change its name to Pumpkin Riot wins October."
But others noted the contrast between the rioters in Keene - who appeared mostly to be white, well-off college students - and the protests in Ferguson, Missouri, over the shooting of an unarmed black teenager two months ago.
Many compared the manner in which the media covered Keene and Ferguson. The former, one widely-circulated image complained, was typically described using phrases such as "rowdy", "mischief" and "booze-filled revellers". But the latter, according to mainstream discourse, had been the result of "thugs" and "animals" who were "destroying their community".
Others archly deployed the language of commentators who have weighed in over Ferguson. "Where are the leaders in the white community? They need to speak out," tweeted @BrFleurantin.. @WesleyLowery added: "Don't these people have jobs? Where are the white fathers? What will end this corrosive culture of violence?!"
For some, however, the scenes in Keene presaged the threat of even more devastating social breakdown. Wrote @thejamesriking, "There was a riot at a New Hampshire pumpkin fest last night, in case you were wondering how we'd handle a real Ebola outbreak."
Reporting by Jon Kelly
You can follow BBC Trending on Twitter @BBCtrending
All our stories are at bbc.com/trending