#BBCtrending: The Chilean priests who defend gay rights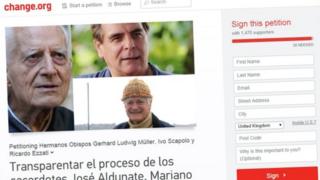 A solidarity movement in support of three liberal Catholic priests has trended on social media in Chile this week.
It started with a message to the Pope that was meant to be private. On Sunday, the La Tercera newspaper reported that a Chilean archbishop and cardinal, Ricardo Ezzati, sent a secret complaint to the Vatican against three priests - Felipe Berríos, Mariano Puga and José Aldunate. All three are well-known in the country for regularly criticising the leaders of the Chilean Catholic Church, and for speaking out in favour of gay rights and abortion rights. The priests actions are being examined by the Vatican's Congregation for the Doctrine of the Faith, according to reports.
The word "Ezzati" started trending on Twitter on Sunday, when the newspaper report was published, and was used more than 10,000 times that day on the platform. Others got involved using Facebook. The majority of the social media comments seem to be from Chileans speaking in support of the three priests. "Ezzati defends the doctrine. His antagonists defend humanity", tweeted. "If Ezzati dares to complain about Berríos, Puga and Aldunate to the Vatican, sensible Catholics should complain about Ezzati," tweeted Pablo Simonetti, a novelist and prominent campaigner in the gay rights movement in Chile.
On Tuesday, a statement from the Archdioceses of Santiago tried to clarify the situation. Archbishop Ezzati didn't make a complaint to the Vatican, it said, but was simply responding to a request for more information. Regardless, supporters of the three priests created an online petition calling for "a transparent process", and demanding "open dialogue" with Church leaders.
Luis Larrain, head of Chilean gay rights campaign group Iguales, who had jokingly called for one of the priests to be appointed archbishop, spoke to BBC Trending. He says Arhcbishop Ezzati's intervention was "annoying, because we were trying to open channels for discussion with the Church". He fears that these events could undermine that dialogue, he says. Many have now called for a demonstration against Ezzati's decision in front of Santiago Cathedral today. Chile is a predominantly Catholic country, and is socially conservative - for example it forbids, and penalises, any kind of abortion. A 2011 study reported that 52% of Chileans supported same sex unions.
Reporting by Constanza Hola Chamy
You can follow BBC Trending on Twitter @BBCtrending
All our stories are at bbc.com/trending