#BBCtrending: Talking privately about Ebola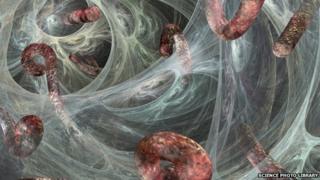 Social media users in Sierra Leone are turning to chat apps to have private conversations about Ebola
"There are certain things that the authorities don't want the public to know" says Emerson Fowai, who works with a public health NGO in Kailahun in eastern Sierra Leone. Over 4,000 West Africans have died from Ebola and the town of Kailahun has been badly hit. There are good public health reasons to monitor the flow of information in the midst of an epidemic - to prevent panic and misinformation. But Fowai is concerned about the restrictions. He claims the government has been downplaying the situation and is reprimanding unofficial voices. "I spoke [publicly] about people who have been quarantined and the authorities asked for my arrest," he says. "So people are afraid to divulge second hand pieces of information."
This pressured environment has had an impact on how people share information. In the early days of the Ebola crisis, social networks like Facebook played an important role. But Facebook isn't completely private. As a result, private groups are being set up on WhatsApp, a smartphone instant messaging service, so that information about Ebola can be shared in a space where conversations can take place more freely.
Fowai says he is part of 32 different closed groups on WhatsApp. BBC Trending has joined four such groups, to get an insight into what is being shared. The groups were initially set up to share news and information about Ebola when little was known about it. Quotes from press releases and news briefings populate the conversations, with updates on aid facilities throughout the country. But people also share more sensitive information. "An ambulance with 8 Ebola patients has fallen into a bridge," one member of a group reports - a claim we can't independently verify. Others share pictures of recent Ebola victims, alive and dead. The groups have also become a forum for people to report their own experiences. One message reads "this is me with surviving Ebola patients in Koindu. They live on the border with Liberia and Guinea. Some of them are orphans, widows and widowers. Their story was rather pathetic." The user uploads an accompanying photograph featuring the survivors in question.
Other WhatsApp posts are of people reminding each other to remain hopeful. One post is entitled "The A-Z of Ebola" and the first for letters are: "A - accept that Ebola is real; B - be careful not to get infected; C - cancel traditional practices that promote the spread of Ebola" and "D - don't touch".
Reporting by Anne-Marie Tomchak,Mukul Devichandand Anna Meisel.
For more on this story listen to BBC Trending radio on BBC World Service.You can follow BBC Trending on Twitter @BBCtrending All our stories are at bbc.com/trending