#BBCtrending: Bello! The UCL students spammed by their president
By BBC Trending
What's popular and why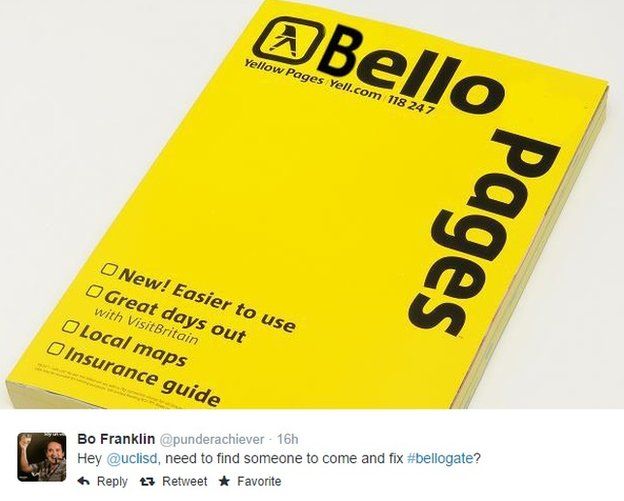 When students at a leading London university were sent a mysterious email from a senior official, the #Bellogate meme was born.
Students at University College London were sent an email last night, purportedly from the university president, Michael Arthur. It simply contained a one word greeting - "bello". By the morning, the message had generated a gigantic email thread, with some students waking up to almost 3,000 unread messages.
The hashtag was the top trend on Twitter overnight in the UK, with more than 5,000 tweets using the term since the "Bello" email appeared. Many shared emails generated in the thread - in which students continued spamming each other with jokes and puns. "Bello? Is it me you're looking for", read one - a play on a Lionel Ritchie song. Others sent invites to cyber security courses, and appealed for missing items of stationery. Some reported they had been signed up to porn sites, dating companies, Alcoholics Anonymous and Sarah Palin's website. A parody account soon emerged.
Most seemed to see the funny side. "Ooo we all just got signed up to the Miley Cyrus mailing list. #Bellogate #BelloCameInLikeAWreckingBall", the UCL Cheesegrater magazine tweeted. One PhD student wrote: "The funniest thing happened to UCL in years, can't stop laughing." While some have questioned UCL's security policies, and expressed frustration about having to delete hundreds of unwanted messages, the sharpest criticism was directed at students who kept posting to the thread, by hitting "reply all" to the original email.
UCL has apologised for "multiple emails" received by students, and shut down the mailing list concerned. It is not known yet who was responsible, although some have jokingly pointed the finger at UCL's rival, King's College. President Arthur has so far remained silent on the matter.