#BBCTrending: Go-Pro shark photo goes viral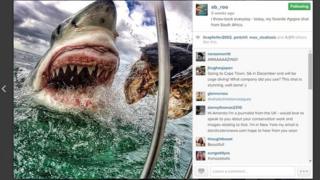 With new user-friendly cameras and editing software, the barriers to creating content are almost non-existent. But, as we all remember from high school, the barriers to popularity will always be a challenge.
This summer, New Jersey elementary school teacher Amanda Brewer captured an image of a great white shark, jaws wide and dangerously close, off the coast of South Africa. She uploaded the photo to Instagram last week, where it received over 5,000 likes. Speaking to to TIME Lightbox, the art teacher said she shot the picture "off the cuff" with a GoPro camera, during a volunteer data-collecting mission for conservation organization White Shark Africa.
"I knew immediately that that photo was going to do something," she told TIME. "And even though some people may see the image and think it's terrifying, if 350,000 people can talk about it in one day, at least people are talking and having conversations about these beautiful animals."
While sharks are the object of fascination in our society - resulting in the Discovery Channel's Shark Week and film Sharknado - not every shot of jaws goes viral.
"There are certain themes that are consistent when people are sharing content. Does it resonate on a personal level?" says Mark W Schaefer, Executive Director, Schaefer Marketing Solutions and a marketing faculty member at Rutgers University. "Research shows that people don't normally share content. Whether they're too busy, too lazy, not interested, so there's got to be some special spark on an emotional level to get people to share."
Scott Talan, a professor of communications at American University, explains Brewer's shark picture has all the right ingredients to trend. "When you match and marry the words to the image, in this case, the caption - a New Jersey teacher - with a picture of a Great White Shark, that itself has large potential to attract attention," he says.
"And then once you see the picture, it looks gripping and vivid and different than a lot of other Great White pictures we've seen. You put all those elements together and you have the possibility for something to take off."
Reporting by Micah Luxen
You can follow BBC Trending on Twitter @BBCtrending
All our stories are at bbc.com/trending