#BBCtrending: The Hulk actor's foray into Brazilian politics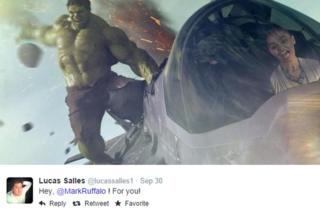 Mark Ruffalo - the Hollywood actor best known for playing the Hulk - has waded into Brazilian politics to endorse a presidential candidate, only to reverse his position the following day.
The Hulk actor isn't a regular pundit on South American electoral races. But on Sunday he chose to join the debate in Brazil, kick-starting an unusual chain of events that played out over social media.
"Marina Silva is probably one of the most interesting and exciting politicians on the world stage today," he said in a YouTube video, endorsing the presidential candidate.
The video touched a nerve with legions of gay rights campaigners in Brazil. They started tweeting Ruffalo urging him not to back a candidate they said did not support gay marriage. "I hope you're just misinformed. Read more about it please," asked one.
Ruffalo soon replied. "Thank you, I am looking into it. I can not support a homophobic," he said, and asked Silva directly on Twitter: "Are you pro marriage equality?"
An aide tweeted back from her account to say that she was, posting a link to her manifesto which pledges support for they gay community. But many of her political opponents chose to keep the conversation going. "Nope," and "NÃO," they tweeted back. Some claimed that they doubted the manifesto reflected her true intentions. The actor's name began trending in Brazil, and has appeared some 20,000 times in the last two days.
Eventually, Ruffalo declared his position. "It has come to my attention that the Brazilian Candidate for President, Marina Silva, may be against gay marriage... It is a little bit murky and unclear presently," he said on his Tumblr blog. "I have to apologise for not doing a better job of vetting this decision." Until Silva clarified her views, he wrote, "my support is null and void."
Silva is one of three leading candidates for the presidency in Sunday's election. Born into a poverty in a small village, she worked on a rubber tree plantation and as a housemaid before making her way into politics. She hopes to usurp the country's current president - Dilma Rousseff - whose incumbent left-wing Workers Party has held power for almost 12 years, but has recently been beset by a string of corruption scandals. Along with Aecio Neves - who leads the centrist PSDB party - all the candidates have signalled their support for gay rights, though doubts remain about whether they will prioritise the issue after the election.
Reporting by Sam Judah and Bruno Garcez
You can follow BBC Trending on Twitter @BBCtrending
All our stories are at bbc.com/trending