#BBCtrending: Jeter's closing-act hit explodes on Twitter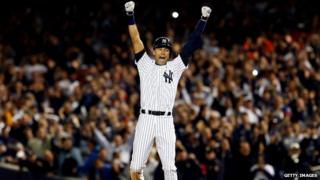 New York Yankees shortstop Derek Jeter has had many memorable moments in his 20-year career, including five World Series championships. His last home game had an ending worthy of Hollywood.
In the bottom of the ninth inning, with the game tied and a man on base, the 14-time all-star drove in the winning run.
The crowd - many of whom had paid thousands of dollars for their tickets - erupted in jubilation, as did social media, with more than 1.3 million Jeter-related mentions on Twitter in the 24 hours to come.
Though Jeter will be on the roster as a designated hitter for his official last game in Boston, this was the shortstop's final appearance at Yankee Stadium.
According to Russell Scibetti, founding editor of TheBusinessofSports.com and a Yankees fan, the game illustrated how social media has transformed the way in which Americans experience major sporting events. He says that although he didn't see the play live, he could share in the joy via Twitter.
"I was able very shortly afterward to see the video and see what my friends were experiencing," he says. "It made me part of the moment, even if I wasn't part of the immediate moment."
He says social media and sports are a "natural pairing".
"You can share experiences and be able to talk about them with your friends and family faster, in the moment, with a wider reach and better recordkeeping," he says.
Jeter's late-inning heroics also were a boon to Jeter-associated companies. A Nike-inspired hashtag, #Re2pect - a reference to Jeter's uniform number - was also a hit on Twitter Thursday, with more than 600,000 uses.
Scibetti says that Nike executives must be quite pleased with how things went. "It would have been great even without that hit in his final game, but the game-winner really made it take off," he adds.
Although Nike enjoyed the hashtag boost, Jeter - often lauded as an old-fashioned player - didn't reap the benefits, as he doesn't even have an official Twitter account. While some athletes share their daily thoughts with hundreds of thousands of followers, even Jeter's retirement announcement - posted on Facebook - felt like a well-crafted press release.
"Jeter is still a fairly closed-door figure," Scibetti says.
That didn't make a difference Thursday night, however. Jeter may not be watching Twitter, but Twitter was definitely watching him.
Reporting by Anthony Zurcher
You can follow BBC Trending on Twitter @BBCtrending
All our stories are at bbc.com/trending