#BBCtrending: Ireland's 'beyond cringey' soccer pundits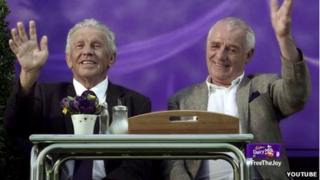 Here at BBC Trending we are always on the lookout for stories trending on social media around the world. Here's a selection of three social media conversations that have caught our eye.
Ireland's footie pundits #FreeTheJoy with "beyond cringey" dancing
In the Republic of Ireland, two of the country's most well-known soccer pundits have become YouTube hits after taking part in an advertisement for Cadbury's chocolate. Eamon Dunphy and John Giles appear in the ad discussing football and soon get carried away dancing with joy to the song "Yes sir, I can boogie" by Baccara. The video has been watched over 250,000 times since Tuesday and uses the hashtag #FreeTheJoy. It's received a wide range of feedback online from "beyond cringey" to "the best thing ever".
Young British woman takes on China's "worst" job
A woman from the UK is being widely discussed on Chinese social networks after taking on one of the country's most unpopular and controversial jobs. The 21-year-old volunteered to become a local level Urban Management Officer, known in Chinese as Chengguan. "The woman has generated heated debate online as many Chinese view it as the most unlikely match up," says Zhuang Chen of the BBC's Chinese Service. "Every time Chengguan end up in the news, Chinese people fear the worst. They are associated with thuggish city management officials who are supposed to keep order on the streets but often end up abusing citizens." Chengguan's role is quite broad. They're inspectors who crack down on low level crime. But they're widely disliked in China after a number of controversies. It's reported the woman is trying to learn Mandarin so that she can succeed at her new job of telling pedestrians to keep the rules when crossing the street.
Miley Cyrus gets a red flag in Mexico
The US singer Miley Cyrus is being investigated by Mexico's Interior Ministry over the possible misuse of the Mexican flag. During a concert in Monterrey in Nuevo Leon, one of Cyrus's backing dancers waved the national flag over her rear end. The incident caused uproar on social media. Cyrus could face detention or a fine. BBC Mundo has more about it in Spanish here.
Compiled by Anne-Marie Tomchak
Do you know more about the above stories? What's trending where you are? Get in touch with us on Twitter @BBCtrending or email trending@bbc.co.uk