#BBCtrending: The Mexicans defending Ronaldinho on Twitter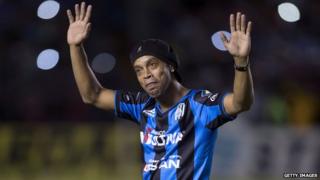 Twitter users have hit back at a Mexican politician who called Ronaldinho an "ape" on Facebook. Tens of thousands responded using a hashtag which translates as "we are all apes".
Fans of Queretaro FC were delighted to discover their team had signed the Brazilian footballer, and many flocked to see him for the first time at their stadium in central Mexico on Friday.
One resident of the city wasn't pleased by his arrival, however. A local politician called Carlos Trevino found himself caught in a traffic jam caused by the the star's arrival, and took to Facebook to voice his annoyance. ""I try to be tolerant but I HATE FOOTBALL and the dumbing down it produces. I hate it even more because people block up the streets, making me spend two hours to get home," he wrote. The post soon took an unusual turn, as Trevino launched into a racist outburst: "And all this just to watch an APE. A Brazilian, but an ape nonetheless."
It was quickly deleted, but not before coming to the attention of social media users who were outraged by his comments. "What an idiot, hasn't he heard of Darwin?" posted a Mexican tweeter, who included the hashtag #TodosSomosSimios, which translates as "We are all apes".
The phrase, intended to show solidarity with the footballer, electrified the social network, and by Monday Trevino issued an apology via Twitter. "A sincere apology to @Club_Queretaro for my regrettable remarks... As a person and as a player, @10Ronaldinho has my respect," he wrote. It was not enough to prevent the hashtag being used almost 50,000 times, more than half of those coming in the last two days alone. "Trevino is such a fool. I'd rather be an ape than stupid and racist. An ape has more more brains than this guy," said another tweeter using the hashtag. The politician's twitter account is no longer available to view online.
Queretaro FC has urged the authorities to take action against Trevino, and the right-wing National Action Party, to which Trevino belongs, has said it will launch an inquiry into the matter.
Reporting by Sam Judah
You can follow BBC Trending on Twitter @BBCtrending
All our stories are at bbc.com/trending