#BBCtrending: Did Twitter 'detectives' help solve a hate crime?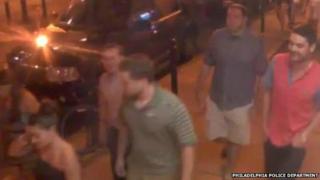 Thanks to social media, a violent crime may be closer to being solved.
Last week, two men in Philadelphia were approached by a group of "10-12 white male and females all in their early 20s 'clean cut' and well dressed," according to a police statement.
Members of the group "made disparaging remarks" about the sexual orientation of the men and assaulted them, fracturing one's face.
After police posted surveillance video of individuals matching the description of the attackers to YouTube, Twitter worked its magic.
Greg Bennett, a former reality television programme participant with a lot of followers, tweeted a Facebook photograph he said was provided by "a friend of a friend of a friend" showing individuals that appeared to match those in the video.
Twitter user FanSince09, a Philadelphia-area sports fanatic, retweeted the photo with the exhortation: "C'mon YOU KNOW THESE PEOPLE. If you don't wanna tell the cops, tell me."
Others identified the restaurant, and FanSince09 searched Facebook for people who tagged themselves as having eaten there that night. He discovered images - with names - matching the photos and video.
He gave the information to the police and was thanked by one of the investigators.
"This is what makes my job easy," tweeted detective Joseph Murray. "Sure, it's up to me to make the arrest but we are all in this together."
According to Lauri Stevens, a social media consultant to law enforcement, this is a "beautiful" example of modern policing.
"With police losing officers as the result of budget cuts, they have to rely on social media for help," she says.
The Philadelphia police says no arrests have been made yet, but the Associated Press quotes a lawyer who says that some of the suspects will be questioned by police on Wednesday.
"There's still a lot of work to be done," says Sergeant Eric Gripp, social and digital media manager for the Philadelphia police. "But we're immensely grateful."
He adds that his department makes an effort to use social media to forge closer ties with the community: "A lot of times folks have a difficult time calling 911 and talking to a faceless entity. If you're not comfortable coming up to officers on the street, you can find one on Twitter."
Reporting by Anthony Zurcher
You can follow BBC Trending on Twitter @BBCtrending
All our stories are at bbc.com/trending