#BBCTrending: Why are First Nations women being killed?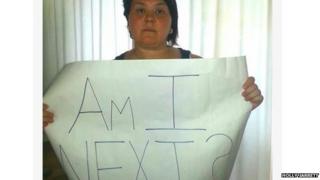 Approximately 1,200 aboriginal Canadian women have been murdered or gone missing since 1980.
In February, an Inuit woman who was passionate about ending this violence went missing herself, her body found two weeks later in New Brunswick. Her former roommates have been charged in her death.
The death of Loretta Saunders has led to calls for a wider public inquiry into the high rate of murdered First Nations women.
So far the government has resisted these pleas, but pressure has stepped up on social media thanks to a new hashtag campaign.
The #AmINext campaign asks which woman will be the next to go missing or murdered.
Saunders's cousin, Holly Jarrett, originated the phrase.
"I wanted to spearhead a movement after Loretta's death," Jarrett told the BBC. "I didn't want to let her go."
Jarrett began a petition in support of a public inquiry and started the hasthag after seeing the initials AIN online. She said it reminded her both of "ain", an Inuit term of endearment, and "Am I Next" - her feelings after the death of her cousin and 15-year-old Tina Fontaine, a First Nations woman who was found in a Winnipeg river early in August.
A Royal Canadian Mounted Police (RCMP) report in May found aboriginal women account for 16% of female homicides and 11% of missing women despite only making up 4.3% of the county's female population.
There have been more than 2,600 tweets since Friday, and almost 3,000 people have joined Jarett's Facebook group dedicated to the hashtag.
Women are posting photos of themselves with a piece of paper in front of them saying "#AMINext" and "#MMIW" - missing and murdered indigenous women.
Many use the tag to call for action from Prime Minister Stephen Harper. He has said the deaths should be viewed as individual crimes and not as a "sociological phenomenon".
Jarrett says she will continue calling for a Canada-wide inquiry.
"There's been tons of independent research, but an inquiry is the most thorough process." she says. "[The government] knows an inquiry will hold them responsible."
Reporting by Taylor Kate Brown
You can follow BBC Trending on Twitter @BBCtrending
All our stories are at bbc.com/trending