#BBCtrending: Joan Rivers remembered in online tributes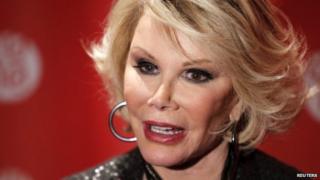 Famed comedian and television host Joan Rivers has died following a cardiac arrest in New York last week. She was 81.
Fans of Rivers - known for her razor-sharp wit and put-downs of celebrity fashion - took to social media to remember the actress and activist following her nearly 50-year career. Here are some of the top things they're talking about.
1. Her philosophy on life
Rivers had an acerbic wit and refused to shy away from controversial topics, including the Holocaust and the widely-covered rescue of three kidnapping victims in Ohio. But just as her humour was blunt, so was her take on life - and in death, comments she made in public about hard work and success have been memorialised as inspirational quotes.
2. Her political views
Rivers worked with the Human Rights Campaign in support of marriage equality and was a long-time supporter of Gods Love We Deliver, which brought meals to the homebound and those affected by HIV and Aids. As such, she was viewed by many as an icon in the gay community, and she was mourned by many gay fans online.
At the same time, her pro-Israeli views, especially the recent comments that the 2,000 Palestinians who died this summer deserved their fate - have not been forgiven after her passing.
3. The timing of her death.
They say deaths come in threes, and many fans are already pairing Rivers' passing with that of Robin Williams, who died in August. E!Online tweeted a photo of the pair, both seen smiling widely for the camera. The photo has been retweeted thousands of times and reposted often.
4. Her jokes about death
Whenever a celebrity dies, their statements about death take on a certain profound air. The Twitter account Letters of Note posted an image of some jokes she once wrote about death, which was retweeted more than two thousand times. "Is there anything worse than a boring death? (Other than a Charlie Rose marathon on PBS?) Other jokes that she made, such as "I want Harry Winston to make me a toe tag", resurfaced online after news of her death.
5. Her 2010 documentary
Once ridiculed for her plastic surgery and job selling jewellery on a television shopping network, the film 'Joan Rivers: A Piece of Work' showed how hard working, determined, and yes, funny, she could be. It lead to a career renaissance. The film is now streaming on Netflix, and many recommended that those who hadn't seen it watch in her memory.
Reporting by Debbie Siegelbaum, Kate Dailey and Ashley Semler
You can follow BBC Trending on Twitter @BBCtrending
All our stories are at bbc.com/trending