#BBCtrending: Stripping to make a point about 'racism' in Brazil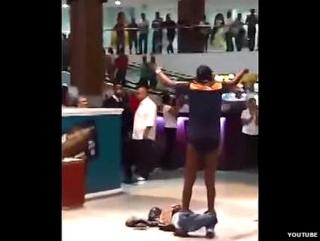 A video showing a man stripping in a shopping centre in Brazil to prove he hasn't been shoplifting has been watched over half a million times and ignited another debate about racism in the country.
In the footage, a man has an outburst in the middle of a shopping mall in Salvador, the capital of Bahia state in northeast Brazil. He repeatedly removes his trousers and t-shirt, exclaiming "I'm not a thief. Look, I'm going to prove it," while opening his backpack and emptying the contents, and then gesticulating towards a private security guard. The incident happened after the man went into Centauro, a well-known sportswear chain. It was caught on camera by a bystander who can be heard saying, "He's right, just because he's black." The man, who hasn't been identified, receives a round of applause from onlookers. His exchange with the security guard continues outside, "Following me just because I'm black...."
The identity of the man is still unknown. The company that manages Centauro, SBF Group, denies allegations of racism. In a statement, the groups says it values diversity in the workforce and doesn't support any kind of prejudice. Irrespective, the incident has been interpreted as racism by many YouTube users. There have been hundreds of comments on various versions of the video online. "Let's follow this man's example. Starting today, every time we get chased unfairly in shopping centres let's take our clothes off," said one comment. Another wrote, "A person who says racism doesn't exist in Brazil lives in a parallel universe" and used the hashtag #ProudToBeBlack. Others disagreed, however. "This dude goes into an elite place dressed like a thief and he expects to be treated well?" said one.
This is not the first time the issue of race and class in shopping malls has been raised in Brazil. As we reported on this blog, earlier this year large groups of teenagers - many of them black - took part in flash mob style gatherings in shopping malls, with some saying they were establishing their right to be there. The groups, known as rolezinhos, organised themselves on Facebook. Last week the subject of racism resurfaced in Brazil after football supporters shouted "monkey" and other racist jibes at the Santos FC goalkeeper Mário Lúcio Costa Duarte, known as Aranha.
"There are lots of different ways that social media is being used to highlight racism," says Rafael Barifouse, a journalist with BBC Brasil in São Paulo. "For example, the Tumblr page I'm not racist gathers racist comments and publishes them in the one place. When an incident like this happens in a shopping mall and goes viral it brings the issue of race into focus."
Reporting by Anne-Marie Tomchak.